21-10-2016 | Uitgave 4/2016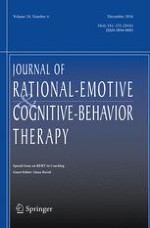 Cognitive Behavioral Coaching and Its Assessment Tools: A Brief Review
Auteur:

Angela M. Breitmeyer
Abstract
The present review serves as a critical analysis of two primary assessment tools used in the cognitive behavior coaching field, i.e., the Freeman–Gavita prescriptive executive coaching (Gavita et al. in J Cogn Behav Psychother 12(2):159–174,
2012
) and the managerial coaching assessment system (David and Matu in J Cogn Behav Psychother 13(2a):259–274,
2013
). In this brief review, the author provides an overview of the perceived benefits and areas for improvement regarding the use of the Prescriptive Index Platform in organizational settings. Primary benefits include its comprehensive and multi-rater perspectives, accounting for sociocultural variables. However, given it is a new assessment measure, further investigation is warranted in order to substantiate its psychometric properties and determine its practical utility. Although the measure is grounded in sound cognitive behavioral theory, its overall usefulness in the corporate arena remains largely unexplored.