01-08-2013 | Uitgave 6/2013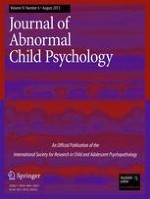 Cognitive and Social Factors Associated with NSSI and Suicide Attempts in Psychiatrically Hospitalized Adolescents
Tijdschrift:
Auteurs:

Jennifer Wolff, Elisabeth A. Frazier, Christianne Esposito-Smythers, Taylor Burke, Emma Sloan, Anthony Spirito
Abstract
Although non-suicidal self-injury (NSSI) and suicide attempts (SA) frequently co-occur among youth, there is increasing evidence that both the risk factors and the phenomenology of the behaviors are distinct. This study examined how individuals who engage in NSSI only, individuals who attempt suicide only, and those who have histories of both NSSI and at least one suicide attempt may differ in terms of cognitions and perceived social support. Participants were 185 adolescents (78.1 % female) between the ages of 13 and 18 recruited from a psychiatric inpatient facility in the northeastern United States. One hundred forty-eight teens were identified with a history of self-injurious behavior and divided into three groups: NSSI only (
n
 = 45), SA only (
n
 = 24) or both NSSI and SA (NSSI+SA;
n
 = 79). Analyses showed that the NSSI+SA group exhibited more cognitive errors, negative self-statements, and negative views of self, world, and future, as well as less perceived familial support than either the NSSI or SA only groups. There were no differences between groups on perceived support from teachers or peers. No significant demographic or diagnostic differences were found between the NSSI and SA groups. Limitations and clinical implications of the current research are discussed.