20-04-2017 | Uitgave 9/2017 Open Access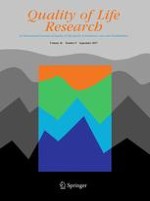 Clinical setting-based smoking cessation programme and the quality of life in people living with HIV in Austria and Germany
Tijdschrift:
Auteurs:

Igor Grabovac, Helmut Brath, Horst Schalk, Olaf Degen, Thomas E. Dorner
Abstract
Purpose
To report on the global quality of life (QOL) in people living with HIV (PLWHIV) and how a smoking cessation intervention influences the changes in QOL.
Methods
Participants were asked to fill out a questionnaire during visits to their HIV outpatient clinic consisting of sociodemographic information, general health data and the WHOQOL HIV-Bref. Exhaled carbon monoxide measurements were used to confirm the smoking status, based on which participants classified as smokers received a short 5 min structured intervention and were offered participation in a full smoking cessation programme consisting of five sessions. Follow-up was done 8 months after the baseline.
Results
Overall 447 (mean age = 45.5) participants took part with 221 being classified as smokers. A total of 165 (74.6%) participants received a short intervention and 63 (29.4%) agreed to participate in the full program. At baseline, differences in QoL were observed, where smokers had lower QoL in domains of physical (
M
= 16.1 vs. 15.3,
p
= 0.009) and psychological (
M
= 15.3 vs. 14.6,
p
= 0.021) well-being, independency level (
M
= 16.1 vs. 15.2,
p
= 0.003) and environment (
M
= 16.5 vs. 16.0,
p
= 0.036). At study end, 27 (12.2%) participants quit smoking; 12 (19.0%) participants of the full programme and 15 (14.7%) that received the short intervention. There were no significant differences in QoL between those that continued to smoke and quitters at follow-up.
Conclusion
Quality of life results may be used to better understand the underlying motivation of PLWHIV who start cessation programs. In order to reduce the high prevalence and health burden that smoking causes in PLWHIV, it is necessary to introduce effective interventions that can be used in the clinical settings.