01-12-2017 | Research | Uitgave 1/2017 Open Access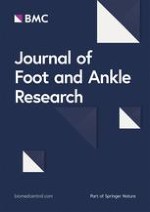 Clinical photographic observation of plantar corns and callus associated with a nominal scale classification and inter- observer reliability study in a student population
Tijdschrift:
Auteur:

David R. Tollafield
Abbreviations
ICC
Interclass correlation coefficient
IPK
Intractable plantar keratoma
Background
Method
Pilot study & expert panel selection
Two pilot photographic studies were carried out 2013–2014 at two national conferences by consensual agreement with the organisers and participants. The observer raters were all qualified podiatrists. The first pilot study included an introduction and descriptors while the second study relied on descriptors alone. The second pilot study invited original observer raters with scores 80% + for the same photographs to review a different set of photographs. Six observer raters scoring 83%, (5/6 photographs) were accepted as 'experts'. Five podiatrists (
skilled)
together with one biophysics engineer were recruited into the study (
n
= 6).
All students were resident at first and third year level at a Podiatry School within a University Department of Health Sciences and selected by an appointed tutor. Students were recruited along the same lines as for skilled observer raters without previous knowledge of the model grading method [
25
,
26
]. PowerPoint™ was used to present 6 slides for student observer raters (Fig.
1
) in a classroom and all anonymised sheets were returned to a podiatry tutor. First year students (
n
= 31) were inexperienced (first semester) and termed
unskilled
. Third year students (
n
= 24) had some clinical experience and but had just completed their second year and were considered
semi-skilled
. The skilled observers were used to validate the photographic lesions independent of the researcher (Table
2
).
×
Descriptors were designed around the original paper [
16
] but extended to improve interpretation of the keratin presentation under the plantar surface (Table
3
).
Table 3
Simple and detailed descriptors. The simple descriptor was utilised in the pilot studies. The detailed descriptor was designed for inexperienced students
Grade

Simplified Descriptor

Detailed descriptor

Reference only

No callus lesion. Normal

No lesion. Even colour, thickness & consistency remain within normal limits for each part of the foot. Heel, sole and pulp of toes may be thicker. There would be insufficient epidermal tissue to debride without affording damage. There are no ridges, fissures or deep tissue changes or lesions within the skin. Keratin lesions associated with other forms of hyperkeratosis do not form part of plantar callus classification.

1

No border definition but retained uniform keratin depth. Ridged or pinch callosity can be considered within the Grade 1 definition

The epidermis is thickened and may have some irregular deeper density changes so as to alter the colour. Callosity shows no border symmetry and maybe diffusely spread without any concentrated area of keratinisation. Petechiae (blood vessels) may be seen or extravasated content. Pinch callosity, also known as ridging, is callus on the edge of the forefoot, occasionally sulcus, heel or apex of a toe. The border may appear isolated as streaky (striated) callus. While this grade of callus may have a defined border it is considered Grade 1 because it conforms to physiological build up or deformity, and the deeper tissue changes are not involved as in Grade 2 or Grade 4.

2

Border definition was present or partially present with variable keratin depth. No discrete distribution of concentrated keratin is evident in the Grade lesion but asymmetric density changes might be observed

A thickness of epidermis forms usually over one or more metatarsals or phalangeal surface of a toe. The border is discrete and may be raised forming a button or disc of thickening. If a partial border is observed, then this is classified as a Grade 2 callus. Debridement may be necessary to determine any true nucleation. The underlying callus may be spongy and can only be determined by examination. Areas of flaky skin, complicated with sub epidermal hemorrhage do not constitute a nucleus of tissue and should be disregarded.

If debrided the tissue is shown to have broken down, eroded or ulcerated it no longer follows the callus classification but that of a wound.

3

Concentrations of discrete keratin plugs isolated, or in groups of lesions, generally with a diameter of less than 4 mm without background callus.

Usually a discrete circumscribed area, but may be elongated. This lesion has no surrounding callus except at the extreme border where a thickened ring or rim may exist. The lesion is mostly associated with the metatarsal plantar skin where weight bearing is reduced and fat tissue is less pronounced, often with a less tightly bound epidermis. However, the lesion may not be associated with mechanical origins and can occur due to other causes including foreign body infiltration or HPV infection. If this is a suspected HPV then it no longer follows callus classification.

4

Border definition present or partially present with variable keratin depth but demonstrating discrete distributions of concentrated keratin greater than 4 mm diameter within the callus

The callus will have a circumscribed symmetrical or asymmetrical area of greater depth, ridge or greater concentration anywhere within the callus. The size can vary from lesion to lesion-occupying crater like areas after debridement. The nucleus does not have to be limited to the centre and can in some cases manifest within a larger percentage of the lesion. On debridement the base (

DEJ

) may be damaged as well as uneven in depth.

As Grade 4 calluses are considered typical of intractable lesions, these are often complicated within the dermo-epidermo junction. Extravasated material, without debridement confirmation cannot be assumed consistent with Grade 4 lesions, but there may be density changes within the callus complicated by blood vessel disturbance. The same rule applies if the dermis is breached leading to a wound.
Materials
Photos used in the PowerPointTM slides were taken using a Canon Powershot SX50HS with macro settings and standard lighting control without flash photography set at the highest definition. Appropriate patient consent was taken. Poor quality slides were removed following two pilot studies. All plates contained no facial recognition and anonymised to observer raters.
Results
Reliability was expressed as a value of weighted quadratic kappa statistic for observer ratings on a nominal, or ordinal scale graded 1–4 [
27
]. A contingency table calculated the frequency of agreement and disagreement for each lesion. The strength of agreement for
k
= 0.81-1.0 implied an almost perfect state,
k
= 0.41-0.60 moderate,
k
= 0.21-0.40 fair and
k
= 0.10-0.20 slight [
28
]. Values of the quadratic weighted statistic obtained alongside percentage responses are reported (Table
4
).
Table 4
Results from observer raters for students and experts (including scientist F)
| | Weighted kappa | Percentage observations correct |
| --- | --- | --- |
| Expert | 0.88 | 83.0% |
| Year 3 | 0.62 | 56.3% |
| Year 1 | 0.33 | 41.9% |
Discussion
It is acknowledged that while more options might allow for easier classification not all lesions would be possible to classify into four categories. It would be unlikely, given both pilot study results and controlled study results, that 100% reliability could be achieved. While errors would not have significant consequences if keratin classification was mistaken, the key contribution could add to diagnostic unpredictability unless combined with reliable tools to provide a quality-related tool.
Conclusion
Considerations for classification have been revisited after a 30+ year period to highlight weaknesses within existing clinical healthcare models for corns and callus, especially within the NHS. Used alone, classification remains limited but may provide a method to show improvement or deterioration. When considered with good quality dermatological description and assessment quality of life, the clinician could use triage by patient questionnaire and photographic media to improve consultations. Problems associated with photographic assessment involves trying to differentiate two similar lesions using a flat or 2-D representation without the benefit of direct palpation.
Classification does not differentiate other pathology such as foreign bodies, fibrous changes within the DEJ, inclusional cysts, bursae, effects of disrupted metatarsophalangeal joints, HPV and neoplasia. A descriptor should cover all possibilities, but dermatological lesions unrelated to surface pressure or DEJ damage can obfuscate the clinician's selection.
Reliability with observation within health must be considered important when the impact of the model used is sensitive enough to make a difference. The skill when annotating the four-point grade model depends on minimising ambiguity around border definition and recognising density changes within callus. Grades 1–4 while independent of each other could define treatment objectives by combining other tools validating impact scores and establishing underlying causes.
Kappa values for observational reliability >0.8 might provide an acceptable value for benchmarking photography, but prior tuition is important. Direct clinical observation might improve the chances of observer reliability over photographic plates.
Acknowledgements
The first and third year students at the University of Huddersfield, Human and Health Sciences (Podiatry). Podiatrists submitting to the expert panel, and to Dr. John Stephenson for assistance with reliability statistics tutor Dr. Andy Bridgen for reading the drafts.
Availability of data and materials
From author.
Author's note
This paper formed part of a larger MSc study and all the conclusions drawn from the method and discussion represent only the element associated with photographic observation method.
Ethics approval and consent to participation
This study was approved by the Human and Health Sciences Postgraduate Course Ethics panel at the University of Huddersfield.
Consent for publication
Each person in the study was provided with informed consent and covered all the observers. No animal or human tissues were involved with this study.
Competing interests
The author declares that they have no competing interests.
Publisher's Note
Springer Nature remains neutral with regard to jurisdictional claims in published maps and institutional affiliations.
Open Access
This article is distributed under the terms of the Creative Commons Attribution 4.0 International License (
http://​creativecommons.​org/​licenses/​by/​4.​0/​
), which permits unrestricted use, distribution, and reproduction in any medium, provided you give appropriate credit to the original author(s) and the source, provide a link to the Creative Commons license, and indicate if changes were made. The Creative Commons Public Domain Dedication waiver (
http://​creativecommons.​org/​publicdomain/​zero/​1.​0/​
) applies to the data made available in this article, unless otherwise stated.