03-06-2020 | Commentary | Uitgave 3/2020 Open Access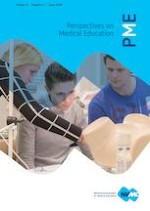 Clinical educational scholarship: polarized or integrated?
Tijdschrift:
Auteurs:

Sophie Park, Anita Berlin, Martina Kelly
Key technologies (e.g. policies) shape the relationship between teaching and research and their relative polar or integrated positions. Efforts, such as the UK Research Assessment Exercise or the more recent Research Excellence Framework have, for example, contributed to prioritization of research-based activity in many university-based institutions. The UK Teaching Excellence Framework later aimed to counter-balance this hierarchical attention to research. An appetite for institutional recognition of teaching has, however, led to a productive integration of research and teaching in medical education, with burgeoning fields of 'educational research' and a reciprocal appetite for implementation of scholarly knowledge within educational practice. Many institutions have responded to and supported these developments in positive ways providing, for example, both teaching and research scholarship promotion pathways, and supporting scholarly professionalization of teachers such as the Higher Education Academy fellowship framework, or postgraduate masters and doctoral programs.
Across clinical and scientist academic careers in healthcare education, the challenge (for both individuals and institutions) remains how to balance and attend to these ever evolving complementary and competing aspects of 'work'. Most roles include a mix of both the mundane and bureaucratic (meetings, form-filling), with intellectual stimulation (intellectual challenge of consulting with patients; engaging with and producing critical debate in teaching and research; ensuring integration of principles including sustainability, inclusivity and accountability). The challenge of negotiating space between the mundane and stimulating, and promoting personal fulfillment in work, has generated whole genres of professional development, well-being and leadership fields. These are complex and varied, and cross a wide spectrum of individualistic and organizational focus in their efforts to improve quality, well-being, productivity, or scholarly performance in some form. There is still much work to be done in supporting the balancing of multiple hierarchies across clinical education, but it can and should be an exciting field to explore if and when both individual and organization find a mutually productive space in which to thrive.