23-11-2019 | Original Article | Uitgave 2/2020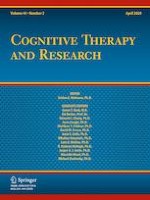 Choice Blindness, Confabulatory Introspection, and Obsessive–Compulsive Symptoms: Investigation in a Clinical Sample
Tijdschrift:
Auteurs:

Shiu F. Wong, Frederick Aardema, Martha Giraldo-O'Meara, Lars Hall, Petter Johansson
Belangrijke opmerkingen
Publisher's Note
Springer Nature remains neutral with regard to jurisdictional claims in published maps and institutional affiliations.
Abstract
The content of obsessions in obsessive–compulsive disorder (OCD) often run contrary to the actual self of the individual experiencing them. The ego-dystonic nature of obsessions has led some researchers to propose that individuals with OCD form these false beliefs about themselves due to limited introspective access. The current study therefore aimed to extend on recent findings from non-clinical samples, which suggest the relevance of confabulatory introspection on OCD symptoms, in a clinical population. Participants were community participants diagnosed with OCD (
n
 = 54) or another anxiety or mood disorder (
n
 = 28), as well as healthy individuals (
n 
= 110). Groups completed the Choice Blindness Paradigm, an experimental task designed to have participants confabulate outside of their awareness. Contrary to predictions, the OCD group did not have a greater proportion of individuals who confabulated on this task. Furthermore, only within healthy participants was the occurrence of confabulation associated with elevated OCD symptoms. We speculate that confabulatory introspection may be an important precursor to the development of clinical obsessions and its early detection could inform the prevention of obsessive–compulsive and related disorders.