01-12-2021 | Research | Uitgave 1/2021 Open Access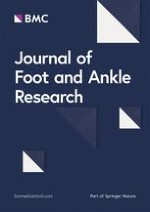 Children should be seen and also heard: an explorative qualitative study into the influences on children's choice of footwear, their perception of comfort and the language they use to describe footwear experiences
Tijdschrift:
Auteurs:

Carina Price, Sue Skidmore, Jane Ratcliffe, Anita Williams
Belangrijke opmerkingen
Publisher's Note
Springer Nature remains neutral with regard to jurisdictional claims in published maps and institutional affiliations.
Abstract
Background
Footwear has an essential role including protection of the feet, overall performance, foot health and potentially, supporting normal development of the foot. In addition to these physical aspects which may influence choice of footwear design, there are psychological influences on what a person chooses to wear. The concept of footwear 'comfort' spans physical and psychological perceptions of comfort in adults. However, there is little understanding of what influences children's footwear choices, how children perceive footwear comfort, or the language used to describe footwear experiences. Therefore, this study aimed to explore these three parameters as the first step to informing the development of a scale to measure footwear comfort in children.
Methods
A pragmatic qualitative design with thematic analysis as an analytical approach was implemented. Passive observation and short interviews were carried out with 23 children (aged 1–12 years) at a footwear manufactures headquarters and store. Prompts included shoes being tried on and field-notes were taken relating to verbal and non-verbal communication. Field notes were coded then themes were identified, reviewed and named.
Results
Overall, the children equated comfort to softness. However, influences on footwear choice were multidimensional including aesthetics, psychosocial influences, identified 'comfort' and 'discomfort' areas, practical issues and predictive concerns; all interacting with the age of the child.
Conclusions
For children, footwear comfort is a complex phenomenon having physical, cognitive, social and emotional developmental components. This can be seen in how the children perceive the 'feel' of the shoe and how the shoe is assessed in the context of how the shoe meets the child's physical and psychosocial developmental needs. In younger children footwear preference is related to idiosyncratic tastes in aesthetics, physical ability and comfort. As children age, societal influences begin to expand the social function of footwear denoting group membership, to include themes that transcend the functional and social function of footwear. The knowledge from this study can inform the development of age group specific tools to evaluate comfort.