05-09-2018 | Original Article | Uitgave 4/2019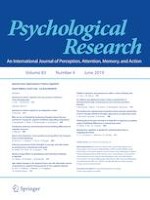 Children's behavior and spontaneous talk in a future thinking task
Tijdschrift:
Auteurs:

Julian S. Caza, Cristina M. Atance
Abstract
We explored 3-, 4-, and 5-year-olds' (
N
 = 120) "explicit" and "spontaneous" future-oriented cognition. Specifically, children had to think ahead to meet a future physiological need (desire for food) or psychological need (avoiding boredom). One group of children alternated between a room with candy and a room without candy, spending 3 min per visit. Children were explicitly asked which room they wanted to put extra candy in for a future visit to the lab (correct answer: room without candy). A second group of children underwent the same procedure but with toys as the resource instead of food (a replication of Atance et al. in J Exp Child Psychol 129:98–109, 2015). In the food condition, 3-, 4-, and 5-year-olds all placed candy in the correct room above chance, but only 4- and 5-year-olds were above chance in the toy condition. Overall, 4- and 5-year-olds outperformed 3-year-olds, and children performed better in the food condition than the toy condition. Children's spontaneous (or "involuntary") future thinking was assessed by coding their utterances while in the two rooms. Children who solved the explicit task uttered more task-relevant future and past statements than children who failed. Examining spontaneous talk also allowed us to explore children's spontaneous "solving" of the task before being asked an explicit test question. This research highlights the importance of varying stimuli in future thinking tasks and developing methods to capture spontaneous/involuntary future thinking in young children.