21-06-2017 | Original Paper | Uitgave 11/2017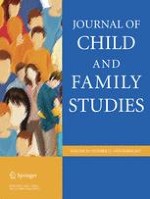 Children of Prenatally Depressed Mothers: Externalizing and Internalizing Symptoms are Accompanied by Reductions in Specific Social-Emotional Competencies
Tijdschrift:
Auteurs:

Anna Eichler, Lisa Walz, Juliane Grunitz, Jennifer Grimm, Jessica Van Doren, Eva Raabe, Tamme W. Goecke, Peter A. Fasching, Matthias W. Beckmann, Johannes Kornhuber, Oliver Kratz, Hartmut Heinrich, Gunther H. Moll
Belangrijke opmerkingen
Anna Eichler and Lisa Walz contributed equally to this work.
Abstract
Studies have shown that child development is negatively affected by prenatal depression. A dysregulated hypothalamic-pituitary-adrenal axis in the pregnant woman, passed to the fetus, is one discussed key mechanism. Studies, investigating primary-school age children, have found effects on antisocial behavior. Effects on internalizing symptoms were not found, but the analysis did not distinguish between anxiety and depression symptoms. Additionally, until now, no objective test data operationalizing social-emotional competencies have been included. The present study examined: 1.Whether the effects on child externalizing symptoms could be replicated; 2. If there are specific effects on child internalizing symptoms, separated for anxiety and depression; and 3. Are child clinical symptoms reflected in reductions in social-emotional competencies. A sample of 61 prenatally depressed and 143 prenatally not-depressed women and their 6–9 year old children were compared, controlling for key confounders in both the perinatal period and in middle childhood. Children of prenatally depressed mothers had more antisocial behavior and depression symptoms reported by their mothers. The prediction of antisocial behavior scores tended to be more significant for boys than for girls. Child anxiety symptoms were primarily explained by current maternal depressive symptoms. Children of prenatally depressed mothers also showed a reduction in social-emotional competencies, specifically regarding the ability to interpret complex social situations. This study showed that, even in a non-clinical sample, there are distinct effects of prenatal depression on child externalizing and internalizing symptoms which are accompanied by reductions in specific social-emotional competencies. These results emphasize that treatment for depressed pregnant women and/or early support for affected families is worthwhile. Additional work is required to identify the underlying biological mechanisms.