01-10-2009 | Original Article | Uitgave 5/2009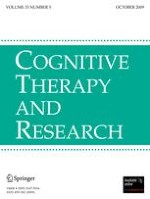 Childhood Maltreatment and Depressotypic Cognitive Organization
Tijdschrift:
Auteurs:

Margaret N. Lumley, Kate L. Harkness
Abstract
Recent research suggests that
how
information is organized in the mind may be important for determining one's vulnerability to depression. The purpose of the current study was to examine potential developmental precursors to a depressotypic cognitive organization (i.e., tightly-connected negative schemas and loosely-connected positive schemas) in a sample of young adult men and women (
N
= 91). The relation between childhood maltreatment (i.e., mother emotional maltreatment, father emotional maltreatment, physical abuse, and sexual abuse) and cognitive organization was assessed using a computer task in which participants with different self-reported maltreatment histories plotted a series of cognitive schema contents (e.g., "I am a failure") on a 2-dimensional grid along the dimensions of self-descriptiveness and valence. As hypothesized, higher levels of mother emotional maltreatment, father emotional maltreatment and physical abuse (but not sexual abuse) were associated with a depressotypic schema organization. Consistent with hypotheses, a depressotypic schema organization mediated the relation between maltreatment and depression, suggesting that the organization of cognitive schemas may help to elucidate why individuals with maltreatment histories are so vulnerable to develop depression.