10-02-2015 | Uitgave 1/2016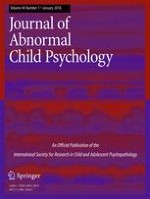 Childhood Attention-Deficit/Hyperactivity Disorder Predicts Intimate Partner Victimization in Young Women
Tijdschrift:
Auteurs:

Maya D. Guendelman, Shaikh Ahmad, Jocelyn I. Meza, Elizabeth B. Owens, Stephen P. Hinshaw
Abstract
Attention-deficit/hyperactivity disorder (ADHD) is associated with interpersonal dysfunction during childhood and adolescence, yet little is known about the romantic relationships of young women with childhood ADHD. In the present study, we draw from a longitudinal sample of girls followed prospectively into young adulthood, comparing those with (
n
 = 114) and without (
n
 = 79; comparisons) childhood ADHD in terms of their risk for physical victimization by an intimate partner (physical IPV; e.g., slapping, punching) by 17–24 years of age. We examined ADHD both diagnostically and dimensionally, at the same time establishing reliable indicators of young adult physical IPV. Externalizing and internalizing problems, and academic achievement during adolescence, were tested as potential mediators. Overall, participants with a childhood diagnosis of ADHD experienced more physical IPV than did comparisons (30.7 % vs. 6.3 %). In parallel, IPV was associated with higher levels of childhood ADHD symptomatology (
d
 = 0.73). Young women with persistent ADHD stood the highest risk of experiencing IPV (37.3 %), followed by those with transient ADHD (19.0 %) and those never-diagnosed (5.9 %). Academic achievement measured during adolescence was a significant partial mediator of the childhood ADHD symptomatology-young adult IPV relationship, even with control of sociodemographic, psychiatric, and cognitive factors, including childhood reading and math disorders. Findings indicate that in young women, childhood ADHD is a specific and important predictor of physically violent victimization in their intimate relationships. This vulnerable population requires IPV prevention and intervention, with academic empowerment as a key target.