06-12-2019 | Review | Uitgave 3/2020 Open Access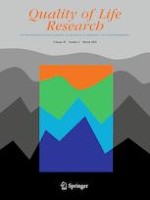 Characterizing health state utilities associated with Duchenne muscular dystrophy: a systematic review
Tijdschrift:
Auteurs:

Shelagh M. Szabo, Ivana F. Audhya, Daniel C. Malone, David Feeny, Katherine L. Gooch
Belangrijke opmerkingen
Electronic supplementary material
Publisher's Note
Springer Nature remains neutral with regard to jurisdictional claims in published maps and institutional affiliations.
Introduction
Duchenne muscular dystrophy (DMD) is a rare X-linked severe progressive myopathy caused by mutations in the gene for dystrophin, with an estimated birth prevalence of approximately 1:5000 males [
1
,
2
]. The typical phenotype includes progressive muscle weakness in childhood and loss of ambulation early in the second decade of life [
3
]. The development of cardiomyopathy and respiratory insufficiency in the teens to early 20 s contributes to need for ventilation support and reduced life expectancy [
4
]. The current standard of care for DMD is treatment with corticosteroids to slow disease progression [
5
]. Newer antisense oligonucleotides and emerging gene therapy treatments have the potential to modify the disease course for patients with DMD [
6
].
Access to any new treatments requires consideration of their cost and benefit profile versus existing therapies, and cost-effectiveness analyses are frequently conducted to determine their "value" for reimbursement decision-making. As part of cost–utility evaluations in particular, assessing the impact of a disease on health-related quality-of-life (HRQoL) is required.
Health state utility values
represent the strength of individuals' preferences for specific health states or conditions (e.g. how good or bad a person thinks the health state is), using a scale typically anchored at 1 (full health) and 0 (dead) [
7
]. Utility values are then used to estimate quality-adjusted life years in economic models [
8
]. A variety of methods exist by which to elicit utility values. These include both direct elicitation methods [such as the time trade-off (TTO), standard gamble (SG), or visual analogue scale (VAS)], as well as indirect methods using generic preference-weighted HRQoL measures such as the EuroQol five dimensions questionnaire (EQ-5D) or the Health Utilities Index (HUI) [
9
–
11
]. The indirect multi-attribute health status classification systems assign respondents to a set of non-disease-specific health states based on an individual's combination of responses provided to a series of questions that measure different attributes of health. Such indirect preference-weighted measures have been widely recommended for use in economic evaluations in part because they incorporate the societal perspective in that the scoring functions for these measures are based on preference scores obtained from representative samples of the general population. Applying these weights generates utility estimates that allow comparison across healthcare interventions and sectors [
12
–
14
]. While many disease-specific measures exist that may better capture the HRQoL impact of a condition like DMD, algorithms to convert these scale scores to utilities are limited [
15
].
In recent years, a number of publications describing utility values for DMD health states have been published [
16
,
17
]. However, how utility values for health states compare across studies, how patient characteristics and other key factors influence estimated utility, and which health states have been considered, has not been synthesized. Nor has the impact of DMD on caregiver utility been synthesized which is important as there is also a considerable caregiver and family burden associated with DMD [
18
]. The objective of this study was to review, synthesize, and appraise existing evidence for utility values for DMD health states from the perspectives of both patients and their caregivers.
Methods
A systematic literature review (SLR) was performed to identify and critically appraise published evidence on utility values for health states describing the HRQoL impact of DMD, for both patients and caregivers.
Search strategy and study selection
A comprehensive search strategy was implemented in Medline and EMBASE to identify eligible records published from database inception to January 11, 2019 (see Supplementary Table 1). The search terms included DMD and the following concepts: cost-effectiveness; utilities; preferences; health states; and HRQoL; and a variety of potential respondent types (patient, caregiver, physician).The inclusion and exclusion of studies in the SLR was guided by PICOS (Population, Intervention, Comparator, Outcomes, Study design) criteria (Table
1
), developed following the Preferred Reporting Items for Systematic Reviews and Meta-Analysis (PRISMA) guidelines [
19
]. Briefly, articles describing directly- or indirectly-elicited utilities for DMD health states, from patients, physicians, caregivers or members of the general public were eligible for inclusion. Citations were de-duplicated prior to double abstract screening and full-text review being performed to identify the subset of eligible articles for data extraction. To identify additional eligible articles the following were also evaluated: (1) published economic models that were identified by the search strategy, for the source of their utility estimates; (2) the Cost-effectiveness Analysis Registry at Tufts Medical Center [
20
]; and (3) the citations of included studies. In addition to searching for published manuscripts, meeting abstracts listed in Medline (in the 'in process' database) and EMBASE from the most recent two years were also screened.
Table 1
PICOS criteria to define the scope of the literature review
Category

Criteria

Population to provide valuation of DMD health states

Patients with DMD; or parents/caregivers who provide responses on their behalf (e.g. 'proxies')

Clinicians who manage patients DMD

'Layperson respondents': Individuals who represent the general population a

Caregivers of DMD patients

Intervention/comparators

None

Outcomes

Directly-elicited utilities/preference values, e.g.

Standard gamble

Time trade-off

Indirectly-elicited utilities/preference values, e.g. using the

EQ-5D

HUI-3

SF-6D

Study design

Prospective or retrospective studies

Clinical trials
Data extraction
Data from eligible studies were extracted by two independent reviewers and recorded in Microsoft Excel ®, with discrepancies resolved through discussion to achieve consensus. The following data were extracted from each study: study author and year of publication, study design, geographic location, baseline clinical and demographic characteristics, sample size, instrument, respondent type (patient, parent/caregiver; and proxy or direct), and utilities estimates. For continuous variables, the mean, median, standard deviation (SD), and range were extracted where available. For dichotomous and categorical variables, the number of patients and proportion were extracted.
Data synthesis and quality appraisal
Mean utility values, and the number of individuals contributing to each estimate, were summarized according to health state: overall, and by clinically important subgroup (e.g. by ambulatory status or need for ventilation). Mean utility values were stratified by respondent type, country, and by patient physical or mental health (as presented by the original investigators).
To our knowledge, there are no agreed-upon reporting standards for studies describing health state preference studies. A critical appraisal of the quality of the studies contributing estimates was therefore performed using a previously-published framework described by Papaionannou et al. [
21
] Within the study quality assessment, one point was awarded for each of the following criteria: (1) sample size ≥ 100; (2) description of respondent selection and recruitment; (3) description of inclusion/exclusion criteria; (4) response rate ≥ 60%; (5) reporting of attrition/loss to follow-up (for longitudinal studies only); (6) reporting of missingness of data and approaches to deal with it; (7) appropriateness of measure (based on the review authors' judgment). Lastly, the scores were summed for each article to yield an overall quality score, ranging from 0 to 7 (for longitudinal studies) or 0 to 6 (for cross-sectional studies) where higher scores indicated higher quality [
22
].
Results
Discussion
Published utilities for DMD health states characterized by age, ambulatory status, and need for ventilation document the dramatic HRQoL impact associated with the progression of DMD. However, utility values for many common health states that impact the HRQoL of patients with DMD and their caregivers are not presently available; including for non-ambulatory patients with different levels of arm or respiratory function, for example. Despite well-documented challenges in collecting HRQoL data among patients with rare diseases, further consideration of methodological options for expanding on the existing utilities for DMD is warranted. These may include larger mapping studies, prospective data collection exercises focusing on patients and their caregivers, or initiatives involving a wider variety of stakeholders such as members of the general public or clinicians. Utilities for a wider range of DMD health states will be needed to provide a more accurate representation of natural history of DMD as well as more accurate value assessment for treatments that have the potential to alter the course of DMD progression
Open Access
This article is licensed under a Creative Commons Attribution 4.0 International License, which permits use, sharing, adaptation, distribution and reproduction in any medium or format, as long as you give appropriate credit to the original author(s) and the source, provide a link to the Creative Commons licence, and indicate if changes were made. The images or other third party material in this article are included in the article's Creative Commons licence, unless indicated otherwise in a credit line to the material. If material is not included in the article's Creative Commons licence and your intended use is not permitted by statutory regulation or exceeds the permitted use, you will need to obtain permission directly from the copyright holder. To view a copy of this licence, visit
http://​creativecommons.​org/​licenses/​by/​4.​0/​
Publisher's Note
Springer Nature remains neutral with regard to jurisdictional claims in published maps and institutional affiliations.