01-08-2012 | Original Article | Uitgave 4/2012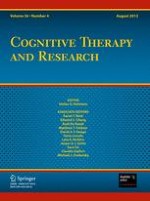 Changes in Judgment Biases and Use of Emotion Regulation Strategies During Cognitive-Behavioral Therapy for Social Anxiety Disorder: Distinguishing Treatment Responders from Nonresponders
Tijdschrift:
Auteurs:

David A. Moscovitch, Dubravka L. Gavric, Jessica M. Senn, Diane L. Santesso, Vladimir Miskovic, Louis A. Schmidt, Randi E. McCabe, Martin M. Antony
Abstract
Although there is much support for the efficacy of cognitive behavioral therapy (CBT) in treating social anxiety disorder (SAD), many patients fail to respond adequately to treatment. In the present study, self-reported judgment biases (probability and cost estimates of negative social events) and emotion regulation strategies (cognitive reappraisal and expressive suppression) were measured at pre-, mid-, and posttreatment in 25 patients with SAD who completed 12 sessions of group CBT. We compared patterns of change across time in judgment biases and use of emotion regulation strategies during therapy among patients who were ultimately classified as responders (
n
= 15) and nonresponders (
n
= 10), and analyzed the extent to which early changes during treatment across these variables accounted for overall symptom improvement in social anxiety symptoms. Results revealed that change trajectories in social probability and cost estimates and use of cognitive reappraisal strategies differed as a function of responder status as patients moved through treatment. The early acquisition of cognitive reappraisal skills was uniquely predictive of overall social anxiety symptom reduction. Implications for clinical practice and research are discussed.