01-05-2010 | Case report | Uitgave 5/2010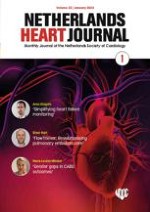 Central sleep apnoea syndrome in chronic heart failure: an underestimated and treatable comorbidity
Tijdschrift:
Auteurs:

M. Müller, M. de Jong, T. Jaarsma, A. Koops, A. A. Voors, J. A. Nieuwenhuis, P. J. Wijkstra
Belangrijke opmerkingen
Department of Pulmonary Diseases, Isala Klinieken, Zwolle, the Netherlands
Thoraxcenter, Department of Cardiology, University Medical Centre Groningen, Groningen, the Netherlands
Department of Pulmonary diseases, University Medical Centre Groningen, the Netherlands
Abstract
Chronic heart failure is a clinical syndrome with a high mortality and morbidity. Despite optimal therapy, five-year survival is still only 50%. Central sleep apnoea syndrome is seen in approximately 40% of patients with congestive heart failure. Sleep apnoea syndrome can be divided into two forms in these patients: obstructive sleep apnoea syndrome (OSAS) and central sleep apnoea syndrome (CSAS, Cheyne-Stokes respiration), of which CSAS is the most common. CSAS is a form of sleep apnoea in congestive heart failure which is driven by changes in pCO2. As a consequence of apnoea-hypopnoea an imbalance in myocardial oxygen delivery/consumption ratio will develop, sympathetic and other neurohormonal systems will be activated and right and left ventricular afterload will be increased.
Sleep apnoea is associated with an increased mortality in patients with systolic heart failure. Treatment of sleep apnoea increases left ventricular ejection fraction and transplant-free survival. Because of its high prevalence, poor quality of life, poor outcome, and the beneficial effects of treatment, physicians treating patients with heart failure should be aware of central sleep apnoea. There are different treatment options, but the exact effects and indications of each option have not yet been fully determined. Further studies should be done to further investigate its prevalence, and to establish the most adequate therapy for the individual patient. (Neth Heart J 2010;18:260-3.)