2012 | OriginalPaper | Hoofdstuk
6. Catheter-Based Coronary Angiography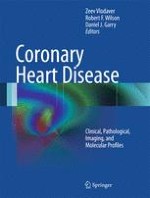 eerste hoofdstuk lezen
Auteurs: MD Robert F. Wilson, MD Zeev Vlodaver
Uitgeverij: Springer US
Abstract
The primary goal of catheter-based coronary angiography is the identification, localization, and assessment of stenotic lesions present within the coronary arteries that will enable us to determine the pathophysiologic significance of the obstructive lesions in question regarding ischemia vs. nonischemia.
This chapter presents a description and illustration of the use of catheter-based coronary angiography. First, it deals with technical aspects, vascular access, and early recognition of complications that may occur with this procedure and its prevention. Also, it illustrates angiographic patterns of collateral circulation associated with severe obstructive coronary disease.
The use of catheter-based coronary angiography provides significant information that is important for the management of the individual patient with and without ischemic heart disease.