30-01-2018 | Original Article | Uitgave 4/2018 Open Access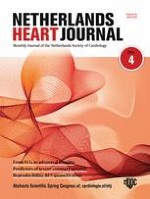 Catheter ablation of symptomatic idiopathic ventricular arrhythmias
A five-year single-centre experience
Tijdschrift:
Auteurs:

A. W. G. J. Oomen, L. R. C. Dekker, A. Meijer
Abstract
Aims
This study was designed to gain insight into the patient characteristics, results and possible complications of ablation procedures for symptomatic idiopathic premature ventricular complexes (PVC) and idiopathic ventricular tachycardia (VT).
Methods
Data were collected from all patients who underwent radiofrequency catheter ablation for symptomatic PVCs and idiopathic VT in the Catharina Hospital between 1 January 2011 and 31 December 2015. The procedural endpoint was elimination or non-inducibility of the clinical arrhythmia. Successful sustained ablation was defined as the persistent elimination of at least 80% of the PVCs or the absence of VTs at follow-up. In case of suspected PVC-induced cardiomyopathy, the systolic left ventricular function was reassessed 3 months post procedure.
Results
Our cohort consisted of 131 patients who underwent one or more ablation procedures; 99 because of symptomatic premature ventricular complexes, 32 because of idiopathic VT. In total 147 procedures were performed. The procedural ablation success rate was 89%. Successful sustained ablation rate was 82%. Eighteen (13.2%) patients had suspected PVC-induced cardiomyopathy. In 15 of them (83%), successful sustained ablation was achieved and the left ventricular ejection fraction improved from a mean of 39% (±8.8) to 55.4% (±8.1). Most arrhythmias originated from the right ventricular outflow tract (60%) or aortic cusps (13%). Complications included three tamponades.
Conclusion
Catheter ablation therapy for idiopathic ventricular arrhythmias is very effective with a sustained success rate of 82%. In patients with PVC-induced cardiomyopathy, it leads to improvement of systolic left ventricular function. However, risk for complications is not negligible, even in experienced hands.