03-09-2018 | Original Article | Uitgave 10/2018 Open Access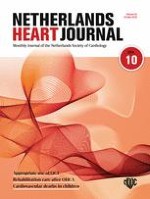 Cardiovascular causes of sudden unexpected death in children and adolescents (0–17 years)
A nationwide autopsy study in the Netherlands
Tijdschrift:
Auteurs:

A. Vos, A. C. van der Wal, A. H. Teeuw, J. Bras, A. Vink, P. G. J. Nikkels, Dutch NODO group
Belangrijke opmerkingen
Electronic supplementary material
Abstract
Background
Little is known about the causes of unexpected death in minors (0–17 years). In young adults an important cause is cardiovascular disease, with primary arrhythmogenic disorders, atherosclerotic events, cardiomyopathies and myocarditis as main contributors. The aim of this autopsy study was to determine the contribution of cardiovascular disease to unexpected death in minors.
Methods and results
In the Netherlands, systematic investigation of all cases of unexplained death in minors was compulsory in a nationwide governmental project during a 15-month period. Autopsies were performed according to a standardised protocol (autopsy rate 85%). A cardiovascular cause of death was found in 13/56 cases (23%). In the group <1 year, the main cardiovascular causes were various congenital defects (
n
 = 3) and myocarditis (
n
 = 2). In the 1–9 year group, no cardiovascular causes were found. In the 10–14 year group, hypertrophic cardiomyopathy (
n
 = 1) and ruptured ascending aortic aneurysm (
n
 = 1) were among the observed cardiovascular causes. In 14/56 (25%) cases autopsy revealed no structural abnormalities that could explain the sudden death, mostly in the group <1 year.
Conclusion
This national cohort with a high autopsy rate reveals a high incidence (23%) of cardiovascular diseases as the pathological substrate of sudden unexpected death in children. Another high percentage of minors (25%) showed no structural abnormalities, with the possibility of a genetic arrhythmia. These findings underline the importance of systematic autopsy in sudden death in minors, with implications for cardiogenetic screening of relatives.