Gepubliceerd in: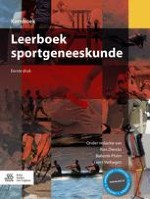 2016 | OriginalPaper | Hoofdstuk
1. Cardiorespiratoire respons tijdens inspanning
Samenvatting
Inspanningsdiagnostiek bij patiënten of sporters heeft een toegevoegde waarde boven het analyseren van de verschillende fysiologische systemen afzonderlijk. Inspanningsdiagnostiek maakt het mogelijk om de geïntegreerde fysiologische respons van de pulmonale, cardiovasculaire, hematologische, neuromusculaire en musculoskeletale systemen te analyseren in rust, tijdens (maximale) lichamelijke inspanning en gedurende de herstelfase. Het non-invasieve en dynamische karakter van het meten van deze fysiologische systemen geeft de (sport)arts relevante en aanvullende (diagnostische of evaluatieve) informatie voor het fysiologisch redeneren en klinisch handelen.