27-09-2016 | Review Article | Uitgave 12/2016 Open Access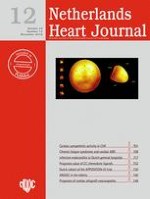 Cardiac sympathetic activity in chronic heart failure: cardiac 123I-
m

IBG scintigraphy to improve patient selection for ICD implantation
Tijdschrift:
Auteurs:

D. O. Verschure, B. L. F. van Eck-Smit, G. A. Somsen, R. J. J. Knol, H. J. Verberne
Abstract
Heart failure is a life-threatening disease with a growing incidence in the Netherlands. This growing incidence is related to increased life expectancy, improvement of survival after myocardial infarction and better treatment options for heart failure. As a consequence, the costs related to heart failure care will increase. Despite huge improvements in treatment, the prognosis remains unfavourable with high one-year mortality rates. The introduction of implantable devices such as implantable cardioverter defibrillators (ICD) and cardiac resynchronisation therapy (CRT) has improved the overall survival of patients with chronic heart failure. However, after ICD implantation for primary prevention in heart failure a high percentage of patients never have appropriate ICD discharges. In addition 25–50 % of CRT patients have no therapeutic effect. Moreover, both ICDs and CRTs are associated with malfunction and complications (e. g. inappropriate shocks, infection). Last but not least is the relatively high cost of these devices. Therefore, it is essential, not only from a clinical but also from a socioeconomic point of view, to optimise the current selection criteria for ICD and CRT. This review focusses on the role of cardiac sympathetic hyperactivity in optimising ICD selection criteria. Cardiac sympathetic hyperactivity is related to fatal arrhythmias and can be non-invasively assessed with
123
I-
meta
-iodobenzylguanide (
123
I-
m
IBG) scintigraphy. We conclude that cardiac sympathetic activity assessed with
123
I-
m
IBG scintigraphy is a promising tool to better identify patients who will benefit from ICD implantation.