05-10-2017 | Uitgave 2/2018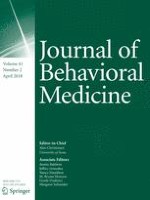 Cancer-related loneliness mediates the relationships between social constraints and symptoms among cancer patients
Tijdschrift:
Auteurs:

Rebecca N. Adams, Catherine E. Mosher, Joseph G. Winger, Rafat Abonour, Kurt Kroenke
Abstract
Cancer patients have high rates of persistent and disabling symptoms. Evidence suggests that social constraints (e.g., avoidance and criticism) negatively impact symptoms, but pathways linking these variables have yet to be identified. This study examined whether cancer-related loneliness (i.e., feeling socially disconnected related to having cancer) mediated the relationships between social constraints and symptoms (i.e., pain interference, fatigue, sleep disturbance, and cognitive complaints) in patients with various cancers (
N
= 182). Patients (51% female, mean age = 59) were recruited from the Indiana Cancer Registry and completed questionnaires assessing social constraints, cancer-related loneliness, and symptoms. Structural equation modeling was used to evaluate the hypothesized relationships among variables. The model demonstrated good fit. Consistent with our hypothesis, cancer-related loneliness mediated the relationships between social constraints and each symptom. Findings suggest that addressing cancer-related loneliness in symptom management interventions may mitigate the negative impact of social constraints on outcomes.