04-09-2015 | REVIEW | Uitgave 1/2016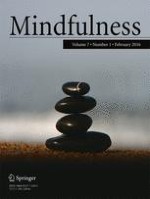 Can Compassion Meditation Contribute to the Development of Psychotherapists' Empathy? A Review
Tijdschrift:
Auteurs:

Marc Bibeau, Frederick Dionne, Jeannette Leblanc
Belangrijke opmerkingen
This article is part of the doctoral thesis of the first author.
Abstract
Over the last three decades, a growing number of scientists and clinicians have been investigating the utility of meditative practices as attention and emotion regulation strategies. Many studies have provided evidence that mindfulness meditation can have positive effects on psychotherapists' capacity to offer presence, acceptance and empathy to their clients. More recently, loving-kindness meditation and compassion meditation have become the focus of scientific scrutiny as it has been thought that they could have even more impact on psychotherapists' empathy than mindfulness meditation. This article reviews the scientific literature on loving-kindness and compassion meditation regarding particularly the potential impact of these meditative practices on the development of psychotherapists' empathy. Studies in neuroscience have shown that loving-kindness and compassion meditation actually change the brain in areas associated with positive emotions and empathy. Loving-kindness and compassion meditation training studies have shown positive impacts on a number of empathy-related variables such as altruism, positive regard, prosocial behavior, interpersonal relationships, as well as affective empathy and empathic accuracy. Moreover, loving-kindness and compassion meditation actually reduce negative affects associated to empathy for pain, thus reducing the risk of psychotherapists' burnout and enhancing their self-care. It is concluded that loving-kindness and compassion meditation would constitute an important and useful addition to every counselling or psychotherapy training curriculum.