01-08-2015 | Original Paper | Uitgave 8/2015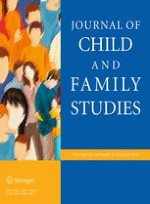 Callous–Unemotional Traits Influence the Severity of Peer Problems in Children with Impulsive/Overactive and Oppositional/Defiant Behaviors
Tijdschrift:
Auteurs:

Brendan F. Andrade, Geoff B. Sorge, Djurdja Djordjevic, Alex R. Naber
Abstract
This study tested whether inattentive–impulsive–overactive (I/O) and oppositional-defiant (O/D) behaviors were associated with peer problems and whether these associations were moderated by callous–unemotional (CU) traits in clinically referred children with disruptive behaviors. Parents of 135 children aged 6–12 years (
M
= 9.09,
SD
= 1.62) completed measures to assess their child's I/O, O/D, and CU behaviors, and peer functioning problems. Findings showed that I/O and O/D behaviors were associated with greater peer problems, and CU traits significantly moderated the I/O behaviors and peer problems association. Children with relatively more CU traits and I/O behaviors showed
greater
peer problems. However, those with more CU traits and fewer I/O behaviors showed
less
peer problems. I/O behaviors and CU traits have an important influence on peer functioning that varies according to the severities of each.