01-07-2013 | Uitgave 5/2013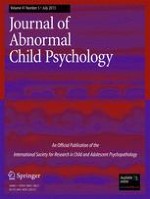 Bullies, Victims, and Antipathy: The Feeling is Mutual
Tijdschrift:
Auteurs:

Christopher A. Hafen, Brett Laursen, Jari-Eri Nurmi, Katariina Salmela-Aro
Belangrijke opmerkingen
Support for the
FinEdu
study was provided by the Academy of Finland (134931, 139168, 7213486) and the Jacobs Foundation. Brett Laursen received support from the U.S. National Institute of Child Health and Human Development (HD068421) and the U.S. National Science Foundation (0923745, 0909733). Correspondence about this article should be addressed to Christopher Hafen, Center for Advanced Study of Teaching and Learning, University of Virginia, 350 Old Ivy Way, Suite 100, Charlottesville, Virginia, 22903. Tel.: +1 434 243 2406. Email: cah3wy@virginia.edu.
Abstract
In this study we consider whether bullies and victims are disliked by most of their classmates, or whether antipathy is concentrated among the occupants of these roles. Antipathy nominations were collected from a community sample of 699 Finnish adolescents (14 to 17 years of age), who described their own bullying and victimization, as well as problem behaviors and school engagement. Victimization was associated with antipathy, but the strength of the association differed according to characteristics of the nominator. Victimization was related to antipathy when the nominator was high on bullying but not low. Similarly, bullying was related to antipathy when the nominator was high on victimization, but not low. The findings indicate that although bullies and victims have elevated mean levels of rejection, they are not disliked by most peers but rather by those who report themselves to be high on these attributes.