01-11-2011 | Uitgave 9/2011 Open Access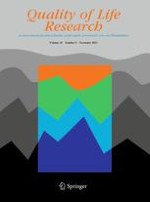 BSRS-5 (5-item Brief Symptom Rating Scale) scores affect every aspect of quality of life measured by WHOQOL-BREF in healthy workers
Tijdschrift:
Auteurs:

I-Cheng Lu, Mei-Chu Yen Jean, Sio-Meng Lei, Hsiang-Huo Cheng, Jung-Der Wang
Abstract
Purpose
This study aims to evaluate and quantify the possible effect of psychological symptoms on healthy workers' quality of life (QOL).
Methods
The workers were recruited from a factory in south Taiwan. We assessed their psychological symptoms with a 5-item brief symptom rating scale (BSRS-5) and measured the QOL using the Taiwanese version of the World Health Organization Quality of Life (WHOQOL)-BREF. Multiple linear regression analysis was conducted to explore the association between the two tools after control of confounding by other predictors.
Results
A total of 1,080 workers, who attended a physical examination, completed questionnaires and informed consent forms. Scores on the BSRS-5 significantly predicted scores in each domain and items of the WHOQOL-BREF. The magnitude of psychological domain score seemed to be affected the most; every 1 point increase in BSRS-5 was associated with a 0.39 raw score (equivalent to 2.44 percentile) decrease in QOL. The sleep facet of WHOQOL appeared to have the highest association, followed by items of negative feelings, energy, and concentration.
Conclusions
The BSRS-5 score is predictive for scores of all four domains and 26 items of the Taiwanese version of the WHOQOL-BREF for regular factory workers.