08-12-2017 | S.I. : College experiences for students with ASD | Uitgave 3/2018 Open Access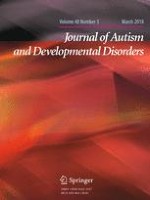 Broadening the Scope of Peer-Mediated Intervention for Individuals with Autism Spectrum Disorders
Tijdschrift:
Auteurs:

Mateusz Płatos, Kinga Wojaczek
Peer-mediated intervention (PMI) is a set of practices in which typically developing peers are selected, trained, and supervised to teach or support individuals with autism spectrum disorders (ASD). With over 60 experimental studies published to date (Chan et al.
2009
; Chang and Locke
2016
; Watkins et al.
2015
), PMI is considered one of the most supported and recommended evidence-based practices (EBPs) for children with ASD (Reichow and Volkmar
2010
; Wang et al.
2011
; Wong et al.
2015
). Yet, in this letter we would like to draw attention to significant gaps in research on PMI and propose three extensions of its scope to include: (a) out-of-school interventions that broaden social environments in which PMI can be provided, (b) adolescents and adults with ASD as a target group of PMI, and (c) befriending schemes involving procedures and outcomes related to friendship, social participation, and well-being. As we argue, those additions to PMI are well-matched with current findings on limitations of available treatments and unmet needs of individuals with ASD. These propositions are exemplified by a description of a befriending scheme for adolescents and adults with ASD—
Peer Volunteers 'Mary and Max'—
that has been developed in Poland.
Extensions of Peer-Mediated Intervention
Peer Volunteers 'Mary and Max'
The above propositions of extending the scope of PMI will be exemplified by the description of Peer Volunteers 'Mary and Max'—PMI that has been developed in Poland since 2012. Peer Volunteers 'Mary and Max' is a manual-based befriending scheme for high-functioning adolescents (from 12 years old) and adults with ASD (that we refer to as 'participants'). The focus of the program is to facilitate the one-to-one relationship between a participant and a volunteer, based on their common interests and joint leisure activities. The aim of arranging such a relationship is to provide a person with ASD a positive, supportive experience associated with a peer, enhance his or her self-perceived interpersonal competence, and increase social participation, thereby decreasing the sense of loneliness and isolation.
The key element of the program is the process of recruitment, selection, and matching of participants and volunteers. This process aims at (a) finding individuals with ASD who have intrinsic motivation to have a friend and spent time together, (b) finding peers who present high motivation to volunteer, good social skills, and emotional maturity, (c) matching participants and volunteers into pairs on the basis of their common interests, preferred activities, age, and area of living. The successful matching is the precondition for a safe, self-motivated, and enjoyable relationship the program is to facilitate. Before the program starts, volunteers undergo a 2-day training based on experiential learning that helps them understand the needs of people with ASD and their role as volunteers.
The core of the program consists in one-to-one, weekly get-togethers of a participant and a volunteer that involve various shared activities, planned and chosen by both sides. Those get-togethers are unsupervised either by professionals or parents and are held mainly in the public (e.g. in a park, a cinema, or a café), enhancing participants' access to the community life. Both participants and volunteers receive professional support in maintaining the relationship, provided by a psychologist who is assigned to the dyad throughout the program. The psychologist holds monthly individual consultations with the participant and the volunteer, working on their initiative, motivation, planning and organizing of get-togethers, expressing emotions, and essentially on the mentalizing skills. Eventually, the psychologist helps participants and volunteers decide whether they want to continue their relationship outside the scheme or resolve it in a gradual and supported process. Although evolving a befriending relationship into a friendship is not the aim of the scheme, most participants and volunteers express their willingness to do it, thus the psychologist's role is to help them make such a transition and take full responsibility for the relationship.
Conclusions
In this short article we argued that the scope of PMI should not be limited to teaching children with ASD social skills in a school setting. Although this type of PMI should certainly be continued and developed, we presented evidence that it would be beneficial to include peers in the support of adolescents and adults with ASD in the community and using befriending schemes to enhance their social participation and well-being. Importantly, the need for such services is clearly expressed by individuals with ASD themselves. Where those services have already existed, they should be backed by empirical research to inform international guidelines and EBP for PMI.
Open Access
This article is distributed under the terms of the Creative Commons Attribution 4.0 International License (
http://​creativecommons.​org/​licenses/​by/​4.​0/​
), which permits unrestricted use, distribution, and reproduction in any medium, provided you give appropriate credit to the original author(s) and the source, provide a link to the Creative Commons license, and indicate if changes were made.