01-12-2012 | Brief Report | Uitgave 12/2012 Open Access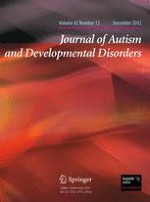 Brief Report: Insight into Illness and Social Attributional Style in Asperger's Syndrome
Tijdschrift:
Auteurs:

Nyaz Didehbani, Mujeeb U. Shad, Michelle R. Kandalaft, Tandra T. Allen, Carol A. Tamminga, Daniel C. Krawczyk, Sandra B. Chapman
Introduction
Methods
Participants
Twenty-one individuals with ASP and 24 controls were recruited for the study. The participants with ASP included 14 males and 7 females with ages ranging from 18 to 34 (
M
= 23.05, SD = 4.88). The healthy control group included 13 males and 11 females with ages ranging from 18 to 39 (
M
= 25.71, SD = 5.55).
Participants with ASP and healthy controls were recruited at the Center for BrainHealth, University of Texas at Dallas (UTD). The clinical group had a current primary diagnosis of ASP as defined by the Diagnostic and Statistical Manual of Mental Disorders, 4th ed. (DSM-IV; APA
2000
) criteria. The diagnosis for the participants with ASP was confirmed by the Autism Diagnostic Observation Schedule (ADOS; Lord et al.
2000
) by trained clinicians involved with the study. Participants were excluded if their clinical status required inpatient treatment, if they had a history of seizures, if they reported substance dependence within the last 3 months, or if they had an estimated IQ less than 80 as measured by the WASI. The IQ cutoff was set at 80, as this investigation was part of a larger intervention study in which participants were required to have at least this IQ. Participants who met all inclusion and failed to meet exclusion criteria were enrolled in the study. All individuals provided written informed consent to participate and all procedures were approved by and carried out in accordance with the UTD Institutional Review Boards.
Measures
Procedures
All participants completed written informed consent, WASI, and IPSAQ. Only individuals with ASP completed the two insight measures.
Statistical Analysis
Statistical analyses were conducted using Statistical Package for Social Sciences (SPSS) version 18.0. Means and standard deviations were calculated for the demographic variables (age and education), estimated IQ, IPSAQ scores, and the two insight measures (SUMD-AV and BIS). Next, one-way analysis of variance (ANOVA) was used to compare ASP with controls across the IPSAQ. Next, correlations were run to investigate the relationship of scores on insight measures with the IPSAQ. Finally, an exploratory correlation between the ADOS subtests with insight into illness and social attribution was run. Some data violated the assumption of normality and therefore nonparametric Spearman's correlations were used.
Results
A summary of demographic information across both groups is presented in Table
1
. The ANOVA revealed that the groups did not differ in education, age, or estimated FSIQ using the WASI.
Table 1
Summary of demographic information
| | Asperger's syndrome | Control | |
| --- | --- | --- | --- |
| Age (years) | 23.05 (4.83) | 25.81 (5.89) | .10 |
| Education (years) | 13.24 (1.70) | 13.73 (1.56) | .11 |
| Estimated FSIQ (standard score) | 112.33 (10.59) | 113.14 (11.17) | .54 |
| Vocabulary (t-score) | 56.00 (9.98) | 58.21 (8.35) | .43 |
| Matrix Reasoning (t-score) | 58.00 (4.61) | 58.00 (7.08) | 1.00 |
A summary of the insight, IPSAQ, and ADOS scores are presented in Table
2
. Based on an ANOVA, no significant differences were found between the ASP and control groups on the six IPSAQ subscales or the two cognitive biases.
Table 2
Means and standard deviations of all measures across groups
| Measures | Asperger's syndrome | Control | |
| --- | --- | --- | --- |
| IPSAQ: Positive internal attribution | 8.53 (3.36) | 9.16 (3.24) | .59 |
| IPSAQ: Positive personal attribution | 3.87 (3.20) | 3.16 (2.19) | .48 |
| IPSAQ: Positive situational attribution | 3.60 (2.44) | 3.68 (2.73) | .93 |
| IPSAQ: Negative internal attribution | 7.13 (4.07) | 4.89 (2.64) | .06 |
| IPSAQ: Negative personal attribution | 5.67 (3.87) | 6.53 (1.78) | .39 |
| IPSAQ: Negative situational attribution | 3.20 (2.07) | 4.58 (2.85) | .13 |
| IPSAQ: Externalizing bias | 1.62 (5.26) | 4.13 (3.92) | .08 |
| IPSAQ: Personalizing bias (negative events) | .58 (.23) | .59 (.21) | .86 |
| IPSAQ: Personalizing bias (positive events) | .45 (.37) | .47 (.26) | .83 |
| Birchwood insight scale total (0–12) | 5.86 (2.19) | N/A | N/A |
| SUMD-AV | 4.71 (1.74) | N/A | N/A |
| ADOS communication total | 3.60 (1.73) | N/A | N/A |
| ADOS reciprocal social interaction total | 5.60 (2.26) | N/A | N/A |
| ADOS communication + social interaction | 9.2 (3.56) | N/A | N/A |
| ADOS imagination/creativity | .89 (.74) | N/A | N/A |
| ADOS stereotyped behavior total | 2.00 (1.03) | N/A | N/A |
Based on Spearman's correlation coefficients, social EB as measured by the IPSAQ was negatively correlated with insight as assessed with the clinician-administered SUMD-AV in patients with ASP (rho = .64,
p
= .002). In looking at individual subscale scores on the IPSAQ, insight as assessed with SUMD-AV was significantly correlated with negative internal attribution (rho = −.66,
p
= .007) and negative personal attribution (rho = .54,
p
= .04). There were no significant correlations between the IPSAQ scores and insight as assessed with the self-administered BIS-MOD. The two insight measures, SUMD-AV and BIS were also not significantly correlated with one another.
Finally, an exploratory analysis investigated the relationship between the ADOS subtests with insight into illness and social attribution. Spearman's correlational analyses revealed a significant correlation between the ADOS Reciprocal Social Interaction subscale with the BIS Treatment subscale (rho = .47,
p
= .04) and the ADOS Communication subscale with the BIS Symptom subscale (rho = −.49,
p
= .03).
Discussion
The aim of this study was to compare social attributional style in relation to insight into illness in individuals with ASP. We found no significant group differences in social EB or PB between ASP and control groups. However, both groups obtained positive EB scores, indicating a self-serving bias. This finding indicated that social attributional bias may not only be associated with psychopathology but healthy controls may also have a greater tendency to use personal rather than situational external attributions for negative events (Taylor and Brown
1988
). Taylor and Brown (
1988
) described these adaptive misconceptions as "illusions" which enable a person to engage in productive work. Positive illusions may promote positive mood and may enhance cognitive abilities such as efficient use of problem-solving and decision-making skills (Taylor and Brown). Researchers have also shown that healthy adults tend to inflate their abilities and evaluate themselves more favorably compared to others, i.e., positive illusory bias (Owens et al.
2007
), which may again have a positive impact on cognitive functioning and self-esteem (Taylor and Brown).
Individuals with ASP showed a significant correlation between EB on the IPSAQ and level of insight, but only when insight was assessed with the clinician-administered insight measure, SUMD-AV. Consequently, as ASP become more aware of their deficits related to their diagnosis, they may believe that they are at fault for negative social consequences which may contribute to a lowered self-esteem. Therefore, as individuals with ASP start recognizing shortcomings, they may become more aware and sensitive to the consequences of their deficits. This is not surprising, because researchers have found that as individuals with SCZ gain more insight into their illness, they may become more depressed (Cotton et al.
2012
; Drake et al.
2004
; Saeedi et al.
2007
) and tend to have lower self-esteem (Drake et al.). In looking at the subscale scores on the IPSAQ, ASP with high insight were more likely to blame themselves for negative social events (negative internal) and less likely to blame others for negative social events (negative personal).
In comparing the two insight measures, it is possible that higher scores on clinician-assessed insight scale may have been a result of the specific questions used on the abbreviated SUMD-AV which contained more general questions about the ASP diagnoses. The SUMD-AV administration enables individuals to explain how they feel about their diagnoses, previous treatment, and social deficits. The SUMD-AV was also designed to address insight across major psychiatric disorders. The self-report BIS may have been too specific and too symptom-based for individuals with ASP despite our modification. It is also possible that some individuals with ASP do not exhibit certain symptoms and for this reason may appear to lack insight into the illness. Therefore, the lower scores may not necessarily indicate lack of insight but rather a lack of symptoms. This may help explain why EB was only correlated with SUMD-AV and not BIS. Previous studies have noted that individuals with ASP often do not accurately rate deficits in self-reports (Green et al.
2000
; Koning and Magill-Evans
2001
; Russell and Sofronoff
2005
). However, there is no self-report or clinician-administered measure of insight designed specifically for individuals with ASP despite the limited self and social awareness commonly cited in this population.
Of note, we did not find any relationship between the two insight measures. This may again be a result of the nature of each measure. The self-reported BIS was designed specifically for individuals with SCZ whereas the clinician-rated SUMD-AV was designed for use across all psychiatric disorders. These two insight measures may have also captured different psychological underpinnings of insight deficits or may have assessed different degrees of awareness of symptoms versus insight into illness. Again, Markova and Berrios (
2011
) argue that "awareness" and "insight" are different constructs and often used interchangeably. Consequently, it is possible that in using the SUMD-AV the clinician made a judgment about the participants' insight into illness in relation to their functioning. The SUMD-AV allowed the clinician to account for some level of severity and acknowledge individual differences in the scoring based on each participant's response and explanation of their deficits. The BIS on the other hand, may have focused more on the participant's awareness of their symptoms, illness, and treatment. Additionally, the BIS scoring may not fit as well with this population, because higher scores indicate that the individual is endorsing more problems and thus appears to have more insight. It does not account for symptom severity and individual differences. Therefore specific symptoms listed on the BIS may not be relevant for a given individual and the person will thus not endorse it. For example, one of the statements on the BIS asked if the participant feels the need to be seen by a mental health provider which some of the participants responded that they do not think they need psychological care. For some individuals, this is a valid response and does not indicate poor insight. As a result, the low insight scores for these less symptomatic individuals will indicate poor insight which is not necessarily the case. These differences in administration (clinician versus self) and quality of scoring may help explain why social EB was related to insight as measured by the SUMD-AV and not the BIS.
In examining the ADOS subscales with measures of insight into illness and social attribution, two relationships with the BIS were observed. The Reciprocal Social Interaction subscale on the ADOS was significantly correlated with the BIS Treatment subscale. This suggested that a person who acknowledged a higher need for treatment may be less effective in reciprocal social interaction. However, these results should be interrupted with caution because many of the participants in the current study did not endorse a need for treatment for their ASP diagnosis as measured on the BIS. There was also a significant relationship between the Communication subscale on the ADOS with the BIS Symptom subscale. This finding indicated that individuals with high insight into symptoms related to their ASP diagnosis, were able to communicate more effectively in a social interaction. It is important to note that the overall mean for the Communication subscale on the ADOS was the only score to reach the
Autism
cutoff. The other subscales only met the
Autism Spectrum
cutoff. The higher score on the Communication subscale indicated a more severe range of functioning for this domain. There were no other significant relationships with the ADOS and one reason that the BIS was the only measure to correlate may again be related to the idea that the BIS is a measure of symptomology much like the ADOS. However, because of the limitations of the BIS, it is difficult to fully interpret these findings.
Overall these results indicate that insight into illness is related to social attribution for individuals with ASP. There was a strong relationship between measures of insight as assessed with the clinician administered SUMD-AV and social EB as assessed with the IPSAQ. In looking more closely at individual IPSAQ subscales, insight was related to how individuals with ASP attribute negative events either to themselves (internal) or to others (personal). Further investigation into the subscales in comparison to controls would provide more specific information in regards to attributional style. Other limitations include the use of an abbreviated clinician administered scale to assess insight and the use of an insight scale directed toward individuals with SCZ. The insight measures were also limited by their low internal reliability as calculated in this study. Additionally, the SUMD was rated only by one trained clinician which may have biased the scores. Future use of this measure may benefit from having two raters that reach consensus over ratings Therefore, the findings from this study will need to be replicated in a larger sample size using a more comprehensive scale for insight assessment than the one used in this study. The current study was also limited in that insight deficits in individuals with ASP were not assessed by other informant raters such as close family members or friends. An insight into illness measure that addresses global concerns from multiple informants would provide a more comprehensive profile of insight deficits. In addition, the observation that different insight measures may assess different psychological mechanisms, suggests that an insight measure that directly assesses a person's understanding of how the symptoms relate to social functioning may be more useful in comprehensively assessing insight deficits. Finally, future research should assess self-esteem and its relationship with insight into illness and social attribution. Research in ADHD and SCZ have shown that self-esteem plays a role in social attribution and an investigation of the interactions between insight into illness, social attribution, and self-esteem seems warranted.
Despite these limitations, this study is the first to examine and explore the relationship between social attributional styles and insight into illness in ASP. These findings fill a void in the ASP literature by providing an empirical research study which investigated insight into illness deficits in this clinical group known to lack social awareness. Further investigation into the effects or contributing factors associated with poor insight, will help researchers and clinicians design targeted interventions for individuals with ASP.
Acknowledgments
This work was supported by funding from the Lattner Family Foundation, the John A. and Lee Wacker Social Cognition Project, and Crystal Charity Ball.