01-02-2011 | Brief Report | Uitgave 2/2011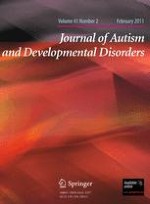 Brief Report: Circumscribed Attention in Young Children with Autism
Tijdschrift:
Auteurs:

Noah J. Sasson, Jed T. Elison, Lauren M. Turner-Brown, Gabriel S. Dichter, James W. Bodfish
Abstract
School-aged children and adolescents with autism demonstrate circumscribed attentional patterns to nonsocial aspects of complex visual arrays (Sasson et al.
2008
). The current study downward extended these findings to a sample of 2–5 year-olds with autism and 2–5 year-old typically developing children. Eye-tracking was used to quantify discrete aspects of visual attention to picture arrays containing combinations of social pictures, pictures of objects frequently involved in circumscribed interests in persons with autism (e.g., trains), and pictures of more commonplace objects (e.g., clothing). The children with autism exhibited greater exploration and perseverative attention on objects related to circumscribed interests than did typically developing children. Results suggest that circumscribed attention may be an early emerging characteristic of autism.