01-10-2011 | Original Article | Uitgave 10/2011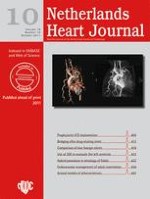 Bridging therapy for early surgery in patients on dual antiplatelet therapy after drug-eluting stent implantation
Tijdschrift:
Auteurs:

E. G. Marcos, A. C. Da Fonseca, S. H. Hofma
Abstract
Objectives
To evaluate stent-related adverse cardiac events and bleeding complications within 30 days after surgical procedures in patients with recent drug-eluting stent (DES) implantation, in whom a bridging protocol was used.
Methods
In our centre a bridging protocol is used in patients scheduled for cardiac or non-cardiac surgery within 6 months after PCI with DES implantation. Clopidogrel and in some cases also acetylsalicylic acid is discontinued 5 days prior to the planned intervention and patients are admitted 2 to 3 days before the intervention for tirofiban infusion. This is discontinued 4 h before intervention. Close postoperative monitoring is performed and double antiplatelet therapy is restarted as soon as possible. Thirty-six consecutive patients were included in the protocol, 15 receiving coronary artery bypass graft and 21 non-cardiac interventions. Thrombotic and bleeding complications were studied for up to 30 days after the bridged procedure.
Results
No incidences of stent thrombosis or other adverse cardiac events (mortality, myocardial infarction) were seen in up to 30 days of follow-up. However, 6 bleeding events were reported of which 5 required a blood transfusion.
Conclusion
Our bridging protocol in patients requiring surgery after recent PCI with DES seems adequate to prevent stent thrombosis in this high-risk group. The bleeding risk is not insignificant but in our patient group controllable without major late sequelae. Larger studies should be performed to establish safety and efficacy in order to develop guidelines for these patients.