04-07-2015 | Empirical Research | Uitgave 8/2016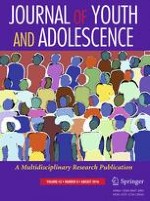 Bridging Multidimensional Models of Ethnic–Racial and Gender Identity Among Ethnically Diverse Emerging Adults
Tijdschrift:
Auteurs:

Antoinette R. Wilson, Campbell Leaper
Abstract
The purpose of this study was to integrate and validate a multidimensional model of ethnic–racial identity and gender identity borrowing constructs and measures based on social identity and gender identity theories. Participants included 662 emerging adults (
M
age
= 19.86 years; 75 % female) who self-identified either as Asian American, Latino/a, or White European American. We assessed the following facets separately for ethnic–racial identity and gender identity: centrality, in-group affect, in-group ties, self-perceived typicality, and felt conformity pressure. Within each identity domain (gender or ethnicity/race), the five dimensions generally indicated small-to-moderate correlations with one another. Also, correlations between domains for each dimension (e.g., gender typicality and ethnic–racial typicality) were mostly moderate in magnitude. We also noted some group variations based on participants' ethnicity/race and gender in how strongly particular dimensions were associated with self-esteem. Finally, participants who scored positively on identity dimensions for both gender and ethnic–racial domains indicated higher self-esteem than those who scored high in only one domain or low in both domains. We recommend the application of multidimensional models to study social identities in multiple domains as they may relate to various outcomes during development.