28-05-2019 | Commentary | Uitgave 3/2019 Open Access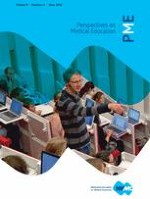 Breaking microaggressions without breaking ourselves
Tijdschrift:
Auteur:

Javeed Sukhera
When you share with health professionals that despite their best intentions, they may perpetuate discrimination, this suggestion will likely be met with discomfort. Feedback about microaggressions has the potential to remind health professionals that they are not superhuman. Rather, that they have flaws, vulnerabilities and shortcomings. This creates dissonance within an academic culture that often expects perfection. Constantly striving to manage microaggressions within a culture that rewards high achievement has the potential to produce psychological distress. Therefore, education to address microaggressions may not achieve intended goals, while resulting in unintended consequences.
Effectively addressing microaggressions through education therefore requires shifting our frame. Rather than creating a learning environment where discussing microaggressions leads to feelings of shame or guilt, we must work to normalize the concept. Instructors should emphasize that microaggressions can be a normal product of our experience. Normalizing microaggressions can help foster self-compassion and self-forgiveness, as learners are encouraged to strive for the best version of themselves while accepting that they will always be flawed.
Yet our attention may return to the survey participant who associated microaggressions with victimhood. If I ask you to imagine what this participant may look like, or what gender this participant might be, what would be the image that comes to mind? We should all catch ourselves when it comes to our potential to perpetuate biases and microaggressions. Injustice is a virus, and we are all susceptible to being infected. We are all both victim and perpetrator, and none of us are immune. Therefore, change starts with looking in the mirror; not by pointing our finger.