13-05-2020 | ORIGINAL PAPER | Uitgave 7/2020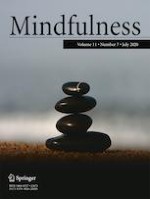 Body Dissatisfaction and Bulimic Symptoms: Moderator Roles of Compassionate and Uncompassionate Self-Responding
Tijdschrift:
Auteurs:

Ege Bicaker, Ayse Altan-Atalay
Belangrijke opmerkingen
Electronic supplementary material
Publisher's Note
Springer Nature remains neutral with regard to jurisdictional claims in published maps and institutional affiliations.
Abstract
Objectives
Previous studies suggest that emotion regulation difficulties are influential in body dissatisfaction's relationship with bulimic symptoms. Likewise, self-compassion, which is explained through the factors of compassionate and uncompassionate self-responding, was also suggested to function as an effective emotion regulation strategy. However, research has not examined self-compassion's moderating role in the link between body dissatisfaction and bulimic symptoms or the unique contribution of self-compassion to bulimic symptoms that is independent from its overlap with emotion regulation difficulties. The current study investigated the unique moderator functions of self-compassion, in the form of compassionate and uncompassionate self-responding, and emotion regulation difficulties in the association between body dissatisfaction and bulimic symptoms.
Methods
Participants were 154 females (
M
(SD) age = 23.89 (4.66) years) who completed questionnaires assessing body dissatisfaction, self-compassion, emotion regulation difficulties, and bulimic symptoms.
Results
Analyses showed that compassionate self-responding factor of self-compassion was a unique buffer against the negative consequences of body dissatisfaction even when controlling for emotion regulation difficulties, while emotion regulation difficulties did not have a moderating effect when self-compassion was accounted for. Results revealed that body dissatisfaction was significantly associated with bulimic symptoms in women with low and middle levels of compassionate self-responding, but not with high levels of compassionate self-responding.
Conclusions
Overall, results suggest that self-compassion buffers the negative impact of body dissatisfaction through mechanisms that are distinct from those of emotion regulation difficulties. These findings warrant further study of self-compassion to better understand its mechanisms of action.