2014 | OriginalPaper | Hoofdstuk
11. Bleeding in Endodontic Surgery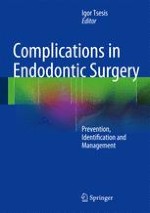 eerste hoofdstuk lezen
Auteurs: DMD Eyal Rosen, DMD Igor Tsesis
Uitgeverij: Springer Berlin Heidelberg
Abstract
Modern endodontic surgery is a highly predictable treatment for teeth with apical periodontitis. While mild hemorrhage during the surgical procedures is common, severe bleeding during endodontic surgery due to an insult to a major blood vessel is relatively rare and may lead to serious systemic complications such as airway compromise, cardiovascular effects, and worsening of the mental status of the patient, and if not controlled may even lead to death. Elderly patients and patients with systemic diseases may be more susceptible to complications following severe blood loss. In addition, in patients with systemic bleeding disorders, excessive bleeding may occur even if only relatively small blood vessels were damaged during the surgical procedure.
Adequate bleeding control is essential for the success of periapical surgery, since it improves visualization of the surgical site, minimizes the operating time, and enables the dry field for retrograde filling material placement. Even mild hemorrhage during endodontic surgery may cause complications during the surgical procedure and may even jeopardize the prognosis of the treatment.
Careful treatment planning and surgical technique, combined with knowledge of the surgical anatomy and recognition of possible hemorrhage related complications, are essential in order to prevent bleeding during endodontic surgery. In addition, a thorough clinical evaluation and anamnesis should be preformed prior to the surgical procedure in order to reveal patients with potential systemic risks of excessive uncontrolled bleeding.