22-04-2020 | State-of-the-art | Uitgave 3/2020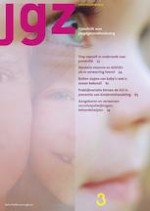 Bipolaire stoornis en AD(H)D: als er verwarring heerst
Tijdschrift:
Auteur:

D‑J Bouilliez
Belangrijke opmerkingen
Dit is een dubbelpublicatie van: Dominique-Jean Bouillez. Bipolaire stoornis en AD(H)D: als er verwarring heerst.
Percentiel
2019;24(5):6–10.
Samenvatting
Een bipolaire stoornis ontstaat niet op latere leeftijd, maar in de kindertijd of de adolescentie. In het begin is de stoornis weinig specifiek, later wordt ze meer uitgesproken. Het duurt vaak acht tot tien jaar voor de diagnose gesteld wordt, vooral omdat de symptomen overlappen met die van andere aandoeningen. Bij volwassenen ligt de aanpak van een bipolaire stoornis duidelijk vast, maar bij kinderen en adolescenten is dat veel minder het geval. Op het zeventiende Encéphale-congres (Parijs, 23 tot 25 januari 2019) gaf prof.dr. Florence Pupier (Montpellier) een stand van zaken over bipolariteit bij kinderen (L'enfance du bipolaire) en besprak prof.dr. Jean-Michel Aubry (Genève) het verband met de aandachtsdeficiëntiestoornis met of zonder hyperactiviteit (Trouble bipolaire et TDA/H). In dit artikel wordt verslag uitgebracht van beide presentaties die deel uitmaakten van de sessie 'Les doubles peines des troubles bipolaires' op het congres.