01-03-2011 | Original Article | Uitgave 3/2011 Open Access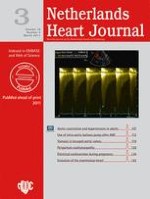 Bicuspid stenotic aortic valves: clinical characteristics and morphological assessment using MRI and echocardiography
Tijdschrift:
Auteurs:

I. C. Joziasse, A. Vink, M. J. Cramer, M. F. M. van Oosterhout, L. A. van Herwerden, R. Heijmen, G. T. J. Sieswerda, B. J. M. Mulder, P. A. Doevendans
Abstract
Background
Bicuspid aortic valve (BAV) is one of the most common congenital heart defects with a population prevalence of 0.5% to 1.3%. Identifying patients with BAV is clinically relevant because BAV is associated with aortic stenosis, endocarditis and ascending aorta pathology.
Methods and Results
Patients with severe aortic stenosis necessitating aortic valve replacement surgery were included in this study. All dissected aortic valves were stored in the biobank of the University Medical Centre Utrecht. Additionally to the morphological assessment of the aortic valve by the surgeon and pathologist, echocardiographic and magnetic resonance imaging (MRI) images were evaluated. A total of 80 patients were included of whom 32 (40%) were diagnosed with BAV by the surgeon (gold standard). Patients with BAV were significantly younger (55 vs 71 years) and were more frequently male. Notably, a significant difference was found between the surgeon and pathologist in determining valve morphology. MRI was performed in 33% of patients. MRI could assess valve morphology in 96% vs 73% with echocardiography. The sensitivity of MRI for BAV in a population of patients with severe aortic stenosis was higher than echocardiography (75% vs 55%), whereas specificity was better with the latter (91% vs 79%). Typically, the ascending aorta was larger in patients with BAV.
Conclusion
Among unselected patients with severe aortic valve stenosis, a high percentage of patients with BAV were found. Imaging and assessment of the aortic valve morphology when stenotic is challenging.