31-10-2019 | Artikelen | Uitgave 4/2019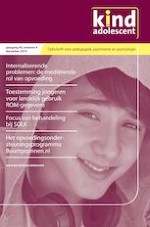 Beweegredenen voor het al dan niet verlenen van toestemming voor het landelijk gebruik van ROM-gegevens
Tijdschrift:
Auteurs:

L. van Domburgh, K. S. Nijhof, M. Broekhuis, Y. Claessens, A. Ketelaars
Samenvatting
In de klinische praktijk wordt veel gebruikgemaakt van Routine Outcome Monitoring om inzicht te krijgen in het beloop van de behandeling op individueel en geaggregeerd niveau. Voorwaarde voor het geaggregeerd gebruik van de onderzoeksgegevens ten behoeve van wetenschappelijk onderzoek is dat er door cliënten expliciet en geïnformeerd toestemming wordt gegeven
(informed consent)
. Het doel van de huidige studie is om inzicht te verkrijgen in de beweegredenen van jongeren om al dan niet toestemming te geven voor gebruik van hun klinische data voor wetenschappelijk onderzoek. In drie instellingen voor gesloten jeugdzorg, die onderling verschillen in het percentage jongeren dat toestemming verleent voor landelijk gebruik van hun gegevens, zijn gestructureerde interviews afgenomen met jongeren (
N
 = 14). Daarnaast zijn focusgroepen gehouden met medewerkers uit deze drie instellingen. Jongeren (ongeacht of ze weigerden of toestemden) herinnerden zich weinig van de toestemmingsprocedure en in hoeverre ze geïnformeerd waren. Jongeren gaven aan dat dit mede komt doordat de toestemming op een hectisch moment direct bij de start van de behandeling wordt gevraagd, waardoor ze de informatie over een dergelijke toestemming niet opnemen. Overwogen zou moeten worden jongeren meerdere keren op verschillende manieren te informeren over de metingen, wat daarvan het doel is, wat er met hun informatie gebeurt en wat hun rechten zijn.