01-08-2013 | Uitgave 6/2013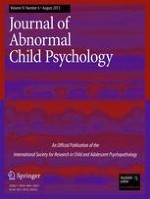 Behavioral Inhibition and Risk for Posttraumatic Stress Symptoms in Latino Children Exposed to Violence
Tijdschrift:
Auteur:

Omar G. Gudiño
Belangrijke opmerkingen
Author Note
This research was supported by a Dissertation Research Grant from the University of California Institute for Mexico and the United States (UC MEXUS). We gratefully acknowledge the assistance of Bennett L. Leventhal, M.D. in the development of this manuscript.
Abstract
Latino children in urban contexts marked by poverty are at high risk of being exposed to violence and developing posttraumatic stress disorder (PTSD). Nonetheless, there is great variability in individual responses to violence exposure. This study examines risk for developing re-experiencing, avoidance, and arousal symptoms of PTSD as a function of individual differences in behavioral inhibition and exposure to community violence. Participants were 148 Latino students (
M
age =11.43 years,
SD
 = 0.69; 55 % girls) living in an area marked by poverty and crime. Children completed self-report measures of behavioral inhibition and posttraumatic stress symptoms during a baseline assessment. During a follow-up interview 6 months later, children completed self-report measures of exposure to community violence since the baseline assessment and posttraumatic stress symptoms. Structural equation models revealed that behavioral inhibition at baseline was positively associated with PTSD avoidance and arousal symptoms at follow-up, after controlling for symptoms at baseline. Furthermore, behavioral inhibition moderated the association between violence exposure and symptoms such that violence was more strongly associated with the development of PTSD avoidance symptoms as behavioral inhibition increased. Results suggest that individual differences in behavioral inhibition contribute to risk for specific PTSD symptoms and are important for understanding variation in responses to trauma exposure. By examining diathesis-­stress models within a disorder, we may be better able to elucidate the etiology of a disorder and translate this improved understanding into personalized intervention approaches that maximize effectiveness.