01-05-2011 | Uitgave 4/2011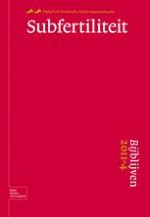 Behandeling van vruchtbaarheidsstoornissen
Tijdschrift:
Auteur:

Dr. B.J. Cohlen
Belangrijke opmerkingen
Gynaecoloog, subspecialist voortplantingsgeneeskunde, Hoofd van het Fertiliteits Centrum Isala
Samenvatting
Fertiliteitsbehandelingen kunnen worden ingedeeld in non-IVF- en IVF-vormen. Tot de eerstgenoemde behoren ovulatie-inductie en intra-uteriene inseminatie (IUI). De diverse vormen van in-vitromaturatie maken een snelle ontwikkeling door. Naast IVF en ICSI, die al een wat langere geschiedenis hebben, bieden sperma-aspiratie (PESA en TESE), in-vitromaturatie (IVM), vitrificatie van eicellen of embryo's en assisted hatching tal van nieuwe mogelijkheden. Welke gevolgen de daaruit geboren kinderen ondervinden, wordt nog onderzocht, maar de resultaten lijken vooralsnog geruststellend. De nieuwe technieken openen ook nieuwe mogelijkheden op het gebied van eicel- of embryodonatie, al legt regelgeving hieraan beperkingen op. Alvorens met fertiliteitsbehandelingen te starten dient men de spontane kans in ogenschouw te nemen.