2016 | OriginalPaper | Hoofdstuk
5. Behandeling van centrale sensitisatiepijn: bottom-up, top-down behandeling of beide?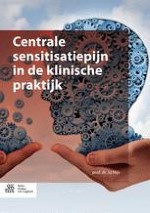 eerste hoofdstuk lezen
Auteur: Jo Nijs
Uitgeverij: Bohn Stafleu van Loghum
Samenvatting
Centrale sensitisatie is vastgesteld bij tal van chronische pijnproblemen, zoals whiplash, temporomandibulaire aandoeningen, chronische lage rugpijn, artrose, fibromyalgie, hoofdpijn, tenniselleboog, schouder impingementsyndroom en pijn na kanker. Ondanks dat we steeds meer begrijpen van het mechanisme van centrale sensitisatiepijn, blijft de behandeling een hele uitdaging.
Dit hoofdstuk biedt de clinicus een 'state of the art' overzicht van de behandelmogelijkheden voor centrale sensitisatiepijn. Deze omvatten bottom-up strategieën om eventueel perifere pijnbronnen te behandelen (bijv. myofasciale therapie of het plaatsen van een gewrichtsprothese), maar vooral top-down behandelmethoden, waarmee de hypersensitiviteit van het centraal zenuwstelsel direct of indirect wordt behandeld. De wetenschappelijke bewijsvoering voor geïsoleerde behandeleffecten van interventies, zoals pijneducatie, (cognitief-gedragsmatige) oefentherapie en stressmanagement als 'desensitiserende' therapie, groeit gestaag.
Actuele inzichten suggereren dat een gecombineerde top-down en bottom-up behandelstrategie aangewezen is, ook al staat de wetenschappelijke evidentie op dat vlak nog in de kinderschoenen.