20-03-2018 | Uitgave 2/2018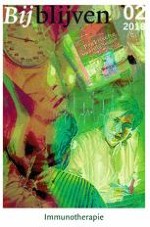 Behandeling met biologicals bij systeemziekten en ILD
Tijdschrift:
Auteurs:

Dr. Marcel Veltkamp, Drs. Milou C. Schimmelpennink
Samenvatting
Sommige patiënten met therapieresistente chronische sarcoïdose komen in aanmerking voor een derdelijns behandeling met TNF-alfaremmers. Middelen zoals infliximab en adalimumab zijn beide effectief gebleken in de behandeling van patiënten met chronische therapieresistente sarcoïdose.
Bij collageen-vasculaire ziekten geassocieerd met ernstige therapieresistente interstitiële longafwijkingen wordt door de longarts met name de biological rituximab voorgeschreven.
Door onderdrukking van het immuunsysteem bij het gebruik van TNF-alfaremmers zijn patiënten gevoeliger voor infecties of voor reactivatie van latente infecties (bijvoorbeeld tuberculose) en kunnen infecties atypisch en/of acuut verlopen. Bij tekenen van infectie is het wenselijk dat de huisarts contact opneemt met de behandelend longarts. Tevens kunnen patiënten die TNF-alfaremmers gebruiken antilichamen vormen. Dit vermindert de werking van het medicijn en kan allergische reacties veroorzaken.
Het is de verwachting dat het gebruik van biologicals in de toekomst alleen maar zal toenemen, zodat ook de huisarts in zijn of haar praktijk hiermee vaker geconfronteerd zal worden.