20-12-2016 | S.I. : Anxiety in Autism Spectrum Disorders | Uitgave 12/2017 Open Access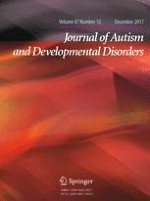 Autistic Traits and Symptoms of Social Anxiety are Differentially Related to Attention to Others' Eyes in Social Anxiety Disorder
Tijdschrift:
Auteurs:

Johan Lundin Kleberg, Jens Högström, Martina Nord, Sven Bölte, Eva Serlachius, Terje Falck-Ytter
Abstract
Autism spectrum disorder (ASD) and social anxiety disorder (SAD) have partly overlapping symptoms. Gaze avoidance has been linked to both SAD and ASD, but little is known about differences in social attention between the two conditions. We studied eye movements in a group of treatment-seeking adolescents with SAD (
N
 = 25), assessing SAD and ASD dimensionally. The results indicated a double dissociation between two measures of social attention and the two symptom dimensions. Controlling for social anxiety, elevated autistic traits were associated with delayed
orienting to
eyes presented among distractors. In contrast, elevated social anxiety levels were associated with faster
orienting away
from the eyes, when controlling for autistic traits. This distinction deepens our understanding of ASD and SAD.