10-09-2018 | S.I. : Empathy in Autism | Uitgave 10/2019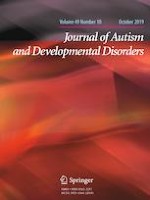 Autistic Traits and Prosocial Behaviour in the General Population: Test of the Mediating Effects of Trait Empathy and State Empathic Concern
Tijdschrift:
Auteurs:

Xudong Zhao, Xiujun Li, Youming Song, Wendian Shi
Belangrijke opmerkingen
Xudong Zhao and Xiujun Li have contributed equally to this work as co-first authors.
Abstract
Although the core characteristics associated with autistic traits are impaired social interactions, there are few studies examining how autistic traits translate into prosocial behaviour in daily life. The current study explored the effect of autistic traits on prosocial behaviour and the mediating role of multimodal empathy (trait empathy and state empathic concern). The results showed that autistic traits reduced prosocial behaviour directly and indirectly through complex mediation by multimodal empathy. The findings revealed the internal mechanism of autistic traits impeding prosocial behaviour and expanded our understandings of social behaviour in autism spectrum conditions (ASCs) and autistic traits in the general population. Furthermore, the results have implications for social adaptability interventions for individuals with ASCs and high levels of autistic traits.