30-11-2017 | Original Paper | Uitgave 5/2018 Open Access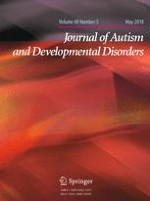 Autistic Symptoms in Children and Adolescents with Gender Dysphoria
Tijdschrift:
Auteurs:

Anna I. R. van der Miesen, Annelou L. C. de Vries, Thomas D. Steensma, Catharina A. Hartman
Introduction
Therefore, in a large sample of children and adolescents with GD, we examined the presence of autistic symptoms in children and adolescents with GD and compared these to symptom levels in typically developing (TD) children and adolescents and children and adolescents with ASD. We expected to find, first, higher levels of autistic symptoms in children and adolescents with GD than in TD developing children and adolescents. Second, we predicted that symptoms of specific subdomains (stereotyped behavior or obsessions) of the autistic spectrum would be particularly elevated in this sample. Third, we tested whether gender differences that could support the EMB theory exist in our sample by investigating gender differences and the interactions by gender between the groups with respect to ASD symptoms in children and adolescents with GD compared to their TD peers.
Methods
Participants and Procedure
Measures
Autistic Symptoms
The Children's Social Behaviour Questionnaire (CSBQ) was used to investigate symptoms of ASD and was completed by parents or caregivers (Hartman et al.
2006
,
2015
). The CSBQ consists of 49 items on a 3-point Likert scale regarding different symptoms of ASD and has six subscales:
1.
The
tuned
subscale assesses the extent of situation appropriate behavior and emotions. This subscale contains of 11 items and an example is "Does not know when to stop". Higher scores represent child characteristics such as being overly stubborn or persistent angriness.
2.
The
social
subscale measures responses to social contact, social needs and initiation of contact. This subscale includes 12 items, for example: "Lives in a world of his/her own". Children who have a high score on this subscale show less reciprocal behavior and less social interest.
3.
The
orientation
subscale assesses orientation in activity, time and place. This subscale consists of eight items. Examples of items are: "Does things without realizing the aim" and "Gets lost easily". Children who have a high score on this subscale lack the overview of activities and situations.
4.
The
understanding
subscale measures the ability to understand social information with respect to the use of language and communication. This subscale contains seven items. An example of an item is: "Does not understand jokes".
5.
The
stereotyped
subscale assesses the occurrence of stereotyped movements and atypical responses to information from the senses. This subscale includes eight items, for instance: "Smells objects" and "Sways to and fro". Children who have a high score on this subscale are for example very sensitive to certain sounds or other input to the senses and make unusual movements with their hands and body.
6.
The c
hange
subscale represents aspects related to the feeling of fear and resistance to change. This subscale consists of three items and an example is: "Opposes changes". Children with a high score on this subscale react strongly to new situations and stick to routines.
The reliability and validity of the CSBQ were considered good and included estimates for test–retest, internal, and inter-rater reliability, and for validity with criterion measures (e.g. theory of mind, diagnostic outcome) (de Bildt et al.
2009
; Hartman et al.
2006
,
2015
). Although the CSBQ is not a diagnostic instrument, a threshold total CSBQ score of 38 or higher was indicated as suggestive for a possible DSM classification of ASD which corresponds to the 96.5th percentile in the current TD sample (Luteijn et al.
2002
).
Analyses
First, between group differences were analyzed using multivariate general linear modelling (GLM) on the six scales of the CSBQ simultaneously. Second, a multivariate GLM analysis with assigned gender at birth and a gender by group interaction as additional predictors was used to identify possible gender differences. These multivariate tests were followed up by univariate GLM analyses per subscale of the CSBQ. Cohen's
d
was used to measure effect sizes between the GD group and comparison groups (Cohen
1988
). An effect size of 0.80 or larger was considered as large, 0.50–0.79 as medium, and 0.20–0.49 as small, and an effect size smaller than 0.20 as negligible. For subscales that differed among the groups, post-hoc
t
tests were applied to further characterize the scores of the GD group relative to normative TD behavior as well as to the scores typical for children diagnosed with ASD.
Results
Discussion
In conclusion, we demonstrated more autistic symptoms in children and adolescents with GD compared to TD children and adolescents. However, we found less autistic symptoms compared to children and adolescents with ASD, illustrating the heterogeneity among GD in relation to the presence of ASD symptoms. All subdomains of the spectrum of ASD were increased; the possible association between ASD and GD can thus not be attributed to one subdomain of the spectrum, such as rigidity or intense interests. Our study found no significant differences in CSBQ total score between boys and girls with GD, and diverging gender differences on the subdomains of ASD, which are not all consistent with the EMB theory. It is essential that healthcare workers actively look out not only for rigidity and obsessions, but take account of the complete spectrum of ASD symptoms whenever assessing and treating individuals with GD.
Compliance with Ethical Standards
Conflict of interest
The authors declare that they have no conflict of interest.
Ethical Approval
All procedures performed in studies involving human participants were in accordance with the ethical standards of the institutional and/or national research committee and with the 1964 Helsinki declaration and its later amendments or comparable ethical standards. This article does not contain any studies with animals performed by any of the authors. Informed consent was obtained from all individual participants included in the study.
Open Access
This article is distributed under the terms of the Creative Commons Attribution 4.0 International License (
http://​creativecommons.​org/​licenses/​by/​4.​0/​
), which permits unrestricted use, distribution, and reproduction in any medium, provided you give appropriate credit to the original author(s) and the source, provide a link to the Creative Commons license, and indicate if changes were made.