08-02-2018 | Original Paper | Uitgave 7/2018 Open Access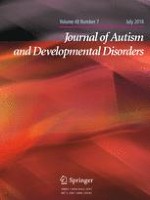 Autism Spectrum Disorder in an Unselected Cohort of Children with Neurofibromatosis Type 1 (NF1)
Tijdschrift:
Auteurs:

S. Eijk, S. E. Mous, G. C. Dieleman, B. Dierckx, A. B. Rietman, P. F. A. de Nijs, L. W. ten Hoopen, R. van Minkelen, Y. Elgersma, C. E. Catsman-Berrevoets, R. Oostenbrink, J. S. Legerstee
Introduction
The primary aim of this study was to examine the prevalence of clinically assessed ASD in children with NF1 visiting a specialized NF1 outpatient clinic without a presumption of ASD. The secondary aim was to investigate the predictive value of a screening instrument and an observational assessment in relation to clinical DSM-IV ASD diagnosis in a pediatric NF1 population. Also, the association of gender, age and intellectual functioning with ASD diagnosis was examined.
Method
Participants
Eligible for participation were children (aged 2–10) with either genetically or clinically diagnosed NF1. All children were patients of ENCORE, a multidisciplinary expertise center for genetic neurocognitive disorders (including NF1) in Rotterdam. As part of the standard multidisciplinary care for and follow-up of children with NF1, these children were routinely referred to the Department of Child and Adolescent Psychiatry/Psychology, between August 2011 and August 2016. In the current study, a total of 128 children between 2 and 10 years of age with NF1 were enrolled (45.3% female, mean age = 5.27,
SD
 = 1.81).
Procedure
As standard procedure, all children underwent neuropsychological evaluation and clinical assessment of autistic symptomatology. Additionally, parents and teachers provided information concerning the child's development and the primary caregiver was asked to complete several questionnaires, including the SRS. The data in this prospective study was collected based on a fixed protocol in the context of the longitudinal follow-up for the assessment of clinical symptoms in children with NF1.
Measures
ASD Symptom Screening
ASD symptoms were screened with the social responsiveness scale (SRS) (Constantino et al.
2003
). Completion of the 65 items by one of the parents provides information concerning functioning in the domains social awareness, social cognition, reciprocal social communication, social motivation, and autistic mannerisms. The total raw score, the sum of the 65 items, can be converted into a T-score (
M
 = 50;
SD
 = 10) using a Dutch normative reference group (Constantino and Gruber
2015
). T-scores of 60 or higher indicate mild to moderate problems, and T-scores of 76 or more indicate severe (clinical) problems. The SRS has been shown to be a valid and reliable instrument the scores are independent from IQ scores (Constantino et al.
2003
).
Observational Assessment of ASD
Observational assessment of ASD was carried out with the autism diagnostic observation schedule-generic (ADOS-G) (Lord et al.
1999
) and the autism diagnostic observation schedule—second edition (ADOS-2)(Lord et al.
2012
). In most cases (i.e. 88.3%), the ADOS-2 was used. With the ADOS, social interaction, play and imaginative skills are assessed. The ADOS was performed by trained and certified psychologists. Depending on the developmental age and level of expressive language of the child, one of the four available modules of the ADOS was chosen. The ADOS has been shown to be a reliable and valid measure for ASD symptoms (Gotham et al.
2007
).
ADOS-G scores were converted to ADOS-2 scores according to the manual (Lord et al.
2012
). ASD classifications were obtained and to enable comparison between ASD severity across the four different modules, continuous calibrated severity scores (CSS) were calculated (Gotham et al.
2009
; Hus et al.
2014
; Hus and Lord
2014
). The CSS range from zero to ten with zero indicating no or very little symptoms and ten indicating severe ASD symptoms.
Clinical (DSM-IV) Diagnosis
A clinical DSM-IV diagnosis of ASD was established by a multidisciplinary team consisting of a child and adolescent psychiatrist and psychologists, combining information from all assessments, questionnaires, observation of the child and heteroanamnestic information provided by parents and teachers.
Intellectual Functioning
Depending on the child's age, the level of intellectual functioning was assessed with either the wechsler preschool and primary scale of intelligence (WPPSI-III)(Wechsler
2002
) or the wechsler intelligence scale for children-iii (WISC-III)(Wechsler
1991
). Reliability and validity of these intelligence tests have been demonstrated. Standardized verbal-, performance-, and full scale IQ scores were calculated (
M
 = 100,
SD
 = 15). For one child, a nonverbal intelligence test (i.e. the Wechsler Non Verbal scale of Ability; WNV) (Wechsler and Naglieri
2006
) was used, for which the total IQ score was calculated as well. In two children, assessment with the Wechsler scales was not possible due to a developmental delay. In these children, assessment of intellectual functioning was done using the Bayley Scales of Infant and Toddler Development third edition (Bayley
2006
), and a developmental quotient was calculated (developmental age/chronological age × 100, with
M
 = 100,
SD
 = 15).
Statistical Analyses
To study the prevalence of ASD, frequencies of the SRS classifications, ADOS-2 classifications, and clinically derived DSM-IV diagnosis were calculated. Sensitivity, specificity, positive predictive (PPV) and negative predictive values (NPV) were calculated to assess the screening accuracy of the instruments' classifications. The association of intelligence and age with clinically derived DSM-IV ASD diagnosis was examined with independent
t
tests. Missing full-scale IQ scores were imputed using mean imputation. The association of gender with clinically derived DSM-IV ASD diagnosis was examined with a Chi square test. Data were analyzed using IBM SPSS Statistics version 22. Results were considered statistically significant if the (two-tailed) alpha level was below .05. Sensitivity, specificity, PPV and NPV values were interpreted according to the guidelines presented by Cicchetti (
2001
).
Results
Discussion
Conclusion
A DSM-IV ASD prevalence rate of 10.9% demonstrates that the prevalence of ASD symptoms in children with NF1 is considerably higher compared to the general population, hereby emphasizing the importance of ASD assessment in this population. Our results underline the relevance of the use of multiple instruments (screening- and observational) for clinicians in order to correctly identify as many individuals with NF1 with ASD as needed. In addition to the group of children with a diagnosis, a substantial group of children with subclinical ASD symptoms is present as well, as was demonstrated by the screening- and observational instrument. This demonstrates the necessity to structurally follow the development of children with NF1.
Acknowledgments
This research was financially supported by the Sophia Children's Hospital Fund (Rotterdam, the Netherlands) under Grant Number SSWO B14-02. Funders were not involved in the design of the study, nor in data collection, analysis, interpretation or writing the manuscript.
Compliance with Ethical Standards
Conflict of interest
The authors declare that they have no conflict of interest.
Ethical Approval
All procedures performed in studies involving human participants were in accordance with the ethical standards of the institutional and/or national research committee and with the 1964 Helsinki declaration and its later amendments or comparable ethical standards.
Informed Consent
This retrospective study was approved by the Medical Ethics Committee of the Erasmus Medical Center, the Netherlands (MEC-2015-203). Written informed consent was formally waived as there is no patient burden and no privacy concern.
Open Access
This article is distributed under the terms of the Creative Commons Attribution 4.0 International License (
http://​creativecommons.​org/​licenses/​by/​4.​0/​
), which permits unrestricted use, distribution, and reproduction in any medium, provided you give appropriate credit to the original author(s) and the source, provide a link to the Creative Commons license, and indicate if changes were made.