01-05-2010 | Original Paper | Uitgave 5/2010 Open Access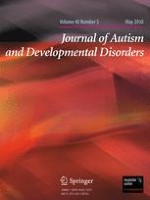 Autism and ADHD Symptoms in Patients with OCD: Are They Associated with Specific OC Symptom Dimensions or OC Symptom Severity?
Tijdschrift:
Auteurs:

Gideon E. Anholt, Danielle C. Cath, Patricia van Oppen, Merijn Eikelenboom, Johannes H. Smit, Harold van Megen, Anton J. L. M. van Balkom
Abstract
In obsessive-compulsive disorder (OCD), the relationship between autism spectrum disorders (ASD), attention-deficit/hyperactivity disorder (ADHD) symptom, and obsessive-compulsive (OC) symptom dimensions and severity has scarcely been studied. Therefore, 109 adult outpatients with primary OCD were compared to 87 healthy controls on OC, ADHD and ASD symptoms. OCD patients showed increased ADHD and autism symptom frequencies, OCD + ADHD patients reporting more autism symptoms (particularly attention switching and social skills problems) than OCD − ADHD patients. Attention switching problems were most significant predictors of OC symptom dimensions (except hoarding) and of symptom severity. Hoarding was not associated with elevated autism scale scores, but with inattention. In conclusion, attention switching problems may reflect both symptom overlap and a common etiological factor underlying ASD, ADHD and OCD.