01-04-2015 | Brief Report | Uitgave 2/2015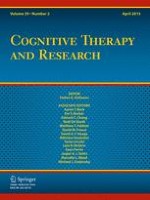 Attention to Emotional Information in Social Anxiety Disorder With and Without Co-Occurring Depression
Tijdschrift:
Auteurs:

Katharina Kircanski, Jutta Joormann, Ian H. Gotlib
Abstract
Despite the high comorbidity of Social Anxiety Disorder (SAD) and Major Depressive Disorder (MDD), we know little about how persons with co-occurring SAD–MDD compare to their counterparts with pure disorders. In the present study we investigated attention to facial emotional stimuli in adult women with SAD only (
n
= 18), MDD only (
n
= 24), co-occurring SAD–MDD (
n
= 24), and healthy controls (CTL;
n
= 33). Participants were exposed to angry, sad, neutral, and happy faces for 200 and 1,000 ms as cues in a Posner attention task. We examined patterns of attentional engagement, disengagement, and vigilance-avoidance as a function of cue valence. Across the attentional indices, both the SAD and SAD–MDD groups differed most consistently from the MDD and CTL groups: they exhibited differential patterns of attention to angry, sad, and happy faces, including relatively greater vigilance-avoidance for angry faces. There was little evidence for any MDD-associated biases in attention. Findings suggest that the attentional processing of emotional information in SAD generally overrides the potential influence of co-occurring MDD. Implications for the understanding and treatment of co-occurring SAD–MDD are discussed.