01-09-2014 | Onderzoek | Uitgave 9/2014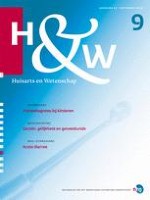 Astmadiagnose bij kinderen
Tijdschrift:
Auteurs:

Lydia Pieters, Susanne Vijverberg, Jan Raaijmakers, Kors van der Ent, Anke-Hilse Maitland-van der Zee
Belangrijke opmerkingen
UMC Utrecht, Faculteit Geneeskunde, Universiteitsweg 98, Postbus 85500, 3584 CG Utrecht: L.E. Pieters, student geneeskunde. Universiteit Utrecht, Divisie Farmaco-epidemiologie en Klinische farmacologie: S.J.H. Vijverberg, junior universitair docent (beide auteurs hebben in gelijke mate bijgedragen aan het artikel); J.A.M. Raaijmakers, hoogleraar pharmaceutical technology assessment; A.H. Maitland-van der Zee, farmaco-epidemioloog en universitair hoofddocent personalized medicine. Wilhelmina Kinderziekenhuis Utrecht, afdeling Kinderlongziekten: prof.dr. C.K. van der Ent, kinderlongarts en hoogleraar kinderlongziekten. UMC Utrecht, afdeling Experimentele longziekten: S.J.H. Vijverberg, junior universitair docent • Correspondentie: a.h.maitland@uu.nl • Mogelijke belangenverstrengeling: het PACMAN-onderzoek is mede mogelijk gemaakt door een strategische alliantie tussen Utrecht Institute Pharmaceutical Sciences (UIPS) en GlaxoSmithKline (GSK). J.A.M. Raaijmakers is parttime professor bij de Universiteit Utrecht en was vicepresident external scientific collaborations bij GSK Europe.
Samenvatting
Pieters LE, Vijverberg SJH, Raaijmakers JAM, Van der Ent CK, Maitland-van der Zee AH. Astmadiagnose bij kinderen. Huisarts Wet 2014;57(9):446-51.
Doel
Het onderzoeken van de overeenstemming tussen door de ouder en door de huisarts gerapporteerde astmadiagnose bij kinderen die astmamedicatie gebruiken.
Methode
We hebben 996 kinderen (4-12 jaar) uit het PACMAN-cohort onderzocht. Alle kinderen hadden recentelijk astmamedicatie gebruikt. Tijdens een onderzoeksbezoek in de apotheek vulden ouders en kinderen een vragenlijst in over astmadiagnose, klachten, medicatiegebruik en therapietrouw. Huisartsen hebben we schriftelijk benaderd met de vraag of het kind astma had. We onderzochten de invloed van verschillende patiëntkarakteristieken met multivariate logistische regressieanalyse.
Resultaten
Bij 63,5% van de kinderen rapporteerden zowel de huisarts als de ouders een astmadiagnose. Er was meer overeenstemming tussen de ouders en de huisarts in de aan- of afwezigheid van een astmadiagnose als het kind ouder was (OR 1,14; p = 0,008), de astmaklachten minder onder controle waren (OR 1,82; p = 0,02) en het kind inhalatiecorticosteroïden (OR 2,93; p = 0,001) of kortwerkende bèta-2-agonisten (OR 2,04; p = 0,03) gebruikte. Afkomst en opleidingsniveau van de ouders hingen niet samen met de mate van overeenstemming. Therapietrouw aan onderhoudsmedicatie was het hoogst (63,1%) bij de groep kinderen van wie zowel de ouders als de huisartsen hadden aangegeven dat het kind een astmadiagnose had.
Conclusie
De overeenstemming tussen de ouders en de huisarts in het aangeven van een astmadiagnose bij kinderen die astmamedicatie gebruiken is relatief hoog, maar er is nog steeds ruimte voor verbetering.