23-06-2016 | REVIEW | Uitgave 6/2016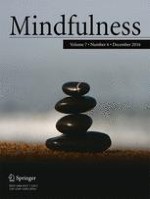 Asthma and Mindfulness: an Increase in Mindfulness as the Mechanism of Action Behind Breathing Retraining Techniques?
Tijdschrift:
Auteurs:

Neil W. Bailey, Thea K. Bridgman, Wolfgang Marx, Paul B. Fitzgerald
Abstract
Adjunctive therapies for asthma are desirable, as medications often do not fully recover quality of life. Both mindfulness and breathing retraining techniques have both been explored as potential adjuncts and show similar patterns of outcomes. Breathing retraining techniques for asthma have been hypothesised to work by reversing abnormally lowered CO2 levels, reducing the affinity of haemoglobin for oxygen resulting in more oxygen available to the tissues, reducing hyperventilation and hyperinflation, and reducing lung inflammation. However, there is little evidence that lowered CO2 levels are the cause of asthma, no evidence that altering CO2 levels improves asthma, and little evidence that breathing retraining improves lung function. Despite that, quality of life and subjective symptom improvements are frequently found in research examining breathing retraining techniques. The current review provides an alternative explanation for the positive outcomes without changes in lung function, suggesting that these improvements are the result of unintended but beneficial increases in mindfulness. Research examining mindfulness as an intervention for asthma has shown an identical pattern of results to breathing retraining techniques, with improved quality of life and subjective symptoms, but no change in lung function. Additionally, breathing retraining techniques require increased attention to and acceptance of sensations associated with breathing, skills which are core components of mindfulness. These results suggest that the quality of life and subjective symptom improvements from breathing retraining are the result of unintended but beneficial increases in mindfulness, leading to reductions in the secondary stress response to asthma, rather than altered CO2 levels.