01-04-2012 | Uitgave 3/2012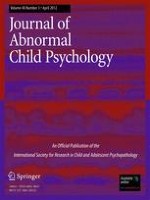 Associations of Mother's and Father's Parenting Practices with Children's Observed Social Reticence in a Competitive Situation: A Monozygotic Twin Difference Study
Tijdschrift:
Auteurs:

Fanny-Alexandra Guimond, Mara Brendgen, Nadine Forget-Dubois, Ginette Dionne, Frank Vitaro, Richard E. Tremblay, Michel Boivin
Belangrijke opmerkingen
Funding was provided by the Social Sciences and Humanities Research Council of Canada, the Fonds Québécois de la Recherche sur la Société et la Culture, the Canadian Institutes of Health Research, and the Fonds de Recherche en Santé du Québec. We thank Jocelyn Malo for coordinating the data collection and Jacqueline Langlois and Hélène Paradis for data management and preparation. We are grateful to Andreann Perron-Gélinas for her help in revising previous versions of this manuscript.
Abstract
This study used the monozygotic (MZ) twin difference method to examine whether the unique environmental effects of maternal and paternal overprotection and hostility at the age of 30 months predict twins' observed social reticence in a competitive situation in kindergarten, while controlling for the effect of family-wide influences, including genetic and shared environmental factors, family socio-economical status and twin's birth weight. It was also examined whether these associations are moderated by parental depressive symptoms. Participants were 137 MZ twin pairs who were part of an ongoing longitudinal study. Hierarchical linear regressions revealed that differences in maternal and paternal overprotection predicted differences in twins' social reticence, albeit only in boys. Differences in paternal hostile parenting predicted differences in girls' reticent behavior, but only when fathers showed high levels of depressive symptoms. Hence, overprotected boys, as well as girls confronted with father's hostility and depressive symptoms, may tend to withdraw rather than face the challenge when experiencing difficult social situations such as competition. The results from the present study suggest that targeting maladaptive maternal as well as paternal child-rearing practices and psychopathology early on may be useful for reducing later internalizing behavior in the offspring.