Gepubliceerd in: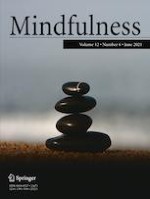 20-03-2021 | ORIGINAL PAPER
Associations from Parental Mindfulness and Emotion Regulation to Child Emotion Regulation Through Parenting: the Moderating Role of Coparenting in Chinese families
Gepubliceerd in: Mindfulness | Uitgave 6/2021
Log in om toegang te krijgen
Abstract
Objectives
The roles of parental mindfulness and coparenting relationships in Eastern cultures have been relatively understudied. This study aimed to investigate the associations of parental mindfulness, emotion regulation, parenting quality, and coparenting quality with children's emotion regulation and negativity in Chinese families.
Methods
Data for a subsample of 2156 parents were drawn from a study with 2237 Chinese parents of school-age children aged 6 to 12 years. Parents completed the Five Facet Mindfulness Questionnaire, the Difficulties in Emotional Regulation Scale, the Multidimensional Assessment of Parenting Scale, the Brief Coparenting Relationship Scale, and the Emotion Regulation Checklist.
Results
Fewer parental emotional regulation difficulties and higher levels of dispositional mindfulness were linked to better parenting quality, which was, in turn, associated with better emotion regulation and lower negativity among children. The association between parenting quality and child negativity was stronger when coparenting quality was higher.
Conclusions
This study highlights the roles of parental mindfulness and emotion regulation skills in children's emotional development in Chinese culture through their associations with parenting practices.