17-04-2020 | Uitgave 6/2020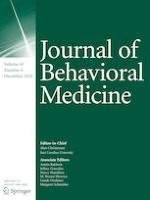 Associations between naturalistically assessed physical activity patterns, affect, and eating in youth with overweight and obesity
Tijdschrift:
Auteurs:

Kathryn E. Smith, Alissa Haedt-Matt, Tyler B. Mason, Shirlene Wang, Chih-Hsiang Yang, Jessica L. Unick, Dale Bond, Andrea B. Goldschmidt
Belangrijke opmerkingen
Publisher's Note
Springer Nature remains neutral with regard to jurisdictional claims in published maps and institutional affiliations.
Abstract
Insufficient physical activity (PA) and excessive stationary behavior (SB) are contributors to pediatric obesity, though antecedents and consequences of these behaviors in this population are relatively unknown. This pilot study examined affect, loss of control eating (LOCE), overeating, and hunger surrounding PA and SB in 17 youth with overweight/obesity. Participants completed a 14-day ecological momentary assessment (EMA) wearing accelerometers. At the momentary level, higher negative affect and lower positive affect predicted SB increases and PA decreases following EMA prompts; higher PA and lower SB also predicted increases in positive affect. Higher LOCE predicted SB increases and PA decreases, while increases in PA and decreases in SB predicted short-term increases in LOCE and overeating. At the individual level, higher SB and lower PA were related to lower positive affect and higher negative affect, LOCE, overeating, and hunger. Findings suggest affect is a relevant antecedent and consequence of PA/SB, and dysregulated eating may acutely impact PA/SB.